Ford Fusion V6 Sport 2017
2017-02-18 Новые автомобили: 2017 Ford Fusion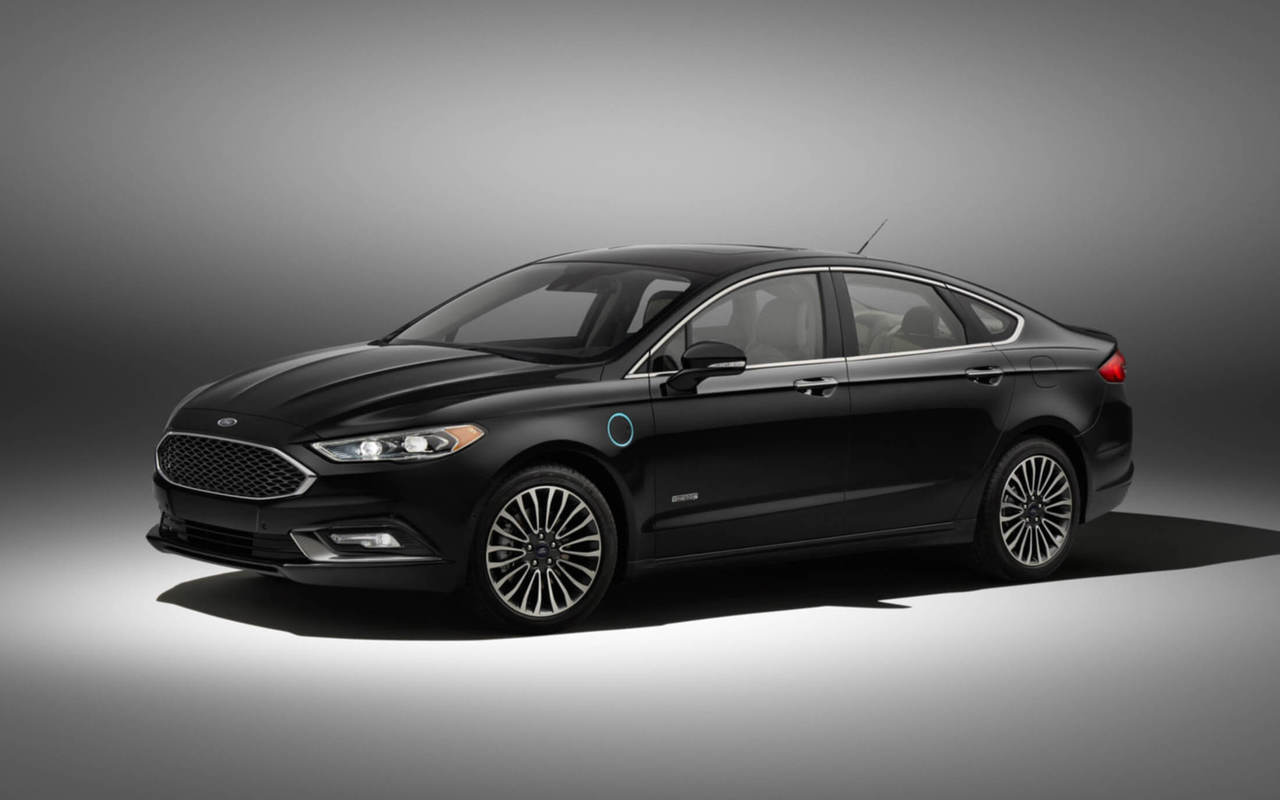 В течение последних двух лет было продано более 300 000 единиц текущей версии Ford Fusion USA . Автомобиль пользуется популярностью, потому что предлагает прекрасный дерзкий дизайн, простое управление и, конечно же, высокие технологии. Наверное, никакой другой представитель класса седанов среднего размера не может похвастаться более широким спектром спецификаций, чем Fusion. Это единственный среднеразмерный седан, предлагающий гибридные и обычные передне- и полноприводные варианты. Так что когда Форд обновлял свой арсенал для 2017-го модельного года, компания провела тщательные, умные усовершенствования, которые на первый взгляд могут показаться незначительными, но сделают общение с автомобилем гораздо более приятным. Обновления улучшают его производительность, стиль, эффективность и электронику.
Американская компания пытается привнести в модель некоторые черты, доказывающие, что машина подходит и для роскошного, и для спортивного сегментов, добавив два уровня комплектации — Fusion Sport и Fusion Platinum. Слухи оказались верными: Ford Motor Company действительно запускает Fusion с двигателем V6, призванным, по словам разработчиков, «оставить другие семейные седаны, включая Honda Accord и Toyota Camry , в пыли».
Кроме сильного двигателя Fusion Sport также получает настроенную шестиступенчатую автоматическую коробку передач и непрерывно контролируемое демпфирование подвески. Автомобиль подвергся серьезным косметическим изменениям, повышающим его визуальную привлекательность, таким как большие 19-дюймовые колеса, затемненная решетка и четырёхъядерные наконечники выхлопных труб.
Fusion Platinum получил черную сетку передней решетки в хромированной отделке, полированные колеса размером 19 дюймов, натуральную кожу на руле, приборной панели, сиденьях и дверях, украшенную узорами стежков, а также подогрев и охлаждение передних сидений.
В салоне стало гораздо тише благодаря использованию акустического лобового стекла, дополненного такими же боковыми стеклами в Hybrid, Energi и Sport, а также в версиях с кожаной отделкой салона (поверхности из кожи, как правило, отражают больше звука, чем тканевые). Для этой же цели было установлено оборудование активного шумоподавления Active Noise Control, которое сначала испытали в Fusion Hybrid.
В прошлом году Ford получил массу критических замечаний по поводу коммутационных устройств. Как бы там ни было, нельзя не признать, что с каждым поколением они улучшаются. Сегодняшний Fusion использует новейшую версию Sync 3 с интуитивно понятным интерфейсом и чётким, легко читаемым экраном. Sync 3 также позволяет использовать функцию Siri Eyes Free, чтобы безопасно управлять телефоном во время вождения. Ниже экрана навигации, климат — контроля и стереосистемы появилась новая область, в центре которой находится USB — порт для интеграции с Apple CarPlay и Android Auto. Другие замечательные дополнительные функции включают в себя мониторинг слепого пятна, новую версию «парковщика», помогающего при параллельной и перпендикулярной парковках, а также удержание полосы и адаптивный круиз — контроль.
В автомобиле предусмотрена система Sync Connect, это элемент Sync 3, он даст вам возможность использовать свой смартфон, чтобы блокировать и разблокировать машину, запустить двигатель удаленно или настроить расписание, по которому ваш автомобиль будет заводиться. Он также позволит вам всегда знать, где находится автомобиль, подыщет удобную стоянку, покажет текущую статистику транспортного средства, такую как давление воздуха в шинах, сколько топлива осталось в баке и многое другое.
Силовые агрегаты
Для 2017 года список двигателей вырос до шести:
2,5-литровый четырёхрядный мотор, производящий скромные 170 лошадиных сил и 230 Нм;
1,5-литровый 4-цилиндровый EcoBoost, имеющий более приличную мощность в 181 лошадиную силу и 250 Нм;
турбированный 2,0-литровый 4-цилиндровый EcoBoost, выдающий 245 лошадиных сил и 373 Нм крутящего момента;
гибридные электродвигатели для моделей Fusion Hybrid и Fusion Energi, которые претерпели некоторые изменения для увеличения «электрической дистанции» и повышения экономии топлива;
и 2,7-литровый Twin Turbo EcoBoost с прямым впрыском топлива в Fusion Sport, проецирующий 325 лошадиных сил и 474 Нм крутящего момента на систему полного привода.
Компания подчеркивает тот факт, что это на 135 Нм и почти на 50 л. с. больше, чем имеют основные соперники нового Форда — Camry и Accord. Гибриды поставляются с передним приводом, хотя имеют возможность для подключения привода на все колёса. Автомобили будут комплектоваться бесступенчатой передачей или автоматической шестиступенчатой коробкой.
1,5-литровый EcoBoost не будет выигрывать гонки, но предлагает много мощности для ежедневных поездок, а также впечатляющую экономию топлива — 10,2 л/100 км по городу и 6,9 л по трассе. Он использует автоматический «стоп — старт», отключаемый и довольно гладкий в работе. 2,0-литровый EcoBoost имеет отклик и тягу качественного V6. Экономия топлива этого двигателя не так хороша, как у 1,5-литрового (11,2/7,6 л), но он обеспечивает превосходный баланс мощности и эффективности.
Электродвигатели гибридных моделей работают с 2,0-литровыми 4-цилиндровыми двигателями и были обновлены для большей эффективности. Energi теперь имеет режимы Auto и EV, последний позволяет автомобилю проходить на чистой электроэнергии до 40 км. В то время как у Fusion Hybrid расход топлива остается по существу прежним (5,4 л в городе, 5,7 л по шоссе), Ford ожидает, что экономия топлива в версии Energi улучшится на пару литров по сравнению с прошлогодней моделью.
Высокопроизводительный Fusion Sport, безусловно, станет звездой линейки. С такими лошадиными силами (по сути лучшими в своем классе), стандартным приводом на все колеса, большими тормозами, подкачкой в режиме реального времени и спортивным режимом с подрулевыми лепестками эту модель захотят попробовать многие покупатели.
Ценообразование
Fusion поступит в продажу этим летом, а версия Sport только осенью. Обычные модели придут в уровнях комплектации S, SE, Titanium, Sport и Platinum. Цены начинаются от $ 22 995 за S, от $ 34 350 для Спорта и от $ 37 495 за новую топовую Платину. Fusion Hybrid с уровнями S, SE и Titanium получит ценовой диапазон $ 26 060 до $ 31 395; а стоимость Fusion Energi в версиях SE, Titanium и Platinum будет в пределах от $ 31 995 до $ 41 995 (без учёта дорожных расходов)
Used 2017 Ford Fusion
Overview
Reviews
Cars For Sale
Photos
Specs & Features
Safety
Styles
The 2017 Ford Fusion answers a lot of transportation questions. If you want a practical and affordable family sedan, it has you covered. It's also an eco-friendly hybrid or plug-in hybrid. The new Platinum and Sport models promise luxury and performance, respectively, and the Fusion remains a high-tech champ.
There's not a lot working against the Fusion. Diesel fans will have to look elsewhere, although the Hybrid models do extremely well on fuel economy. About the only other thing we can imagine is brand loyalty.
What's New for 2017
Ford's new Fusion gets subtly revised exterior styling, mainly focusing on the nose, headlights, lower bumper and rear taillights. There are also changes inside, with a new rotary shifter and upgraded Sync infotainment system. Two new models also debut: the luxury-oriented Platinum, and the sporty, V6-powered Fusion Sport.
2017 Ford Fusion Expert Review
For 2017 the new Ford Fusion gets a thorough refresh in the name of keeping it competitive with the class-leading Honda Accord, Toyota Camry and Kia Optima. There are also two new models. First is a luxury edition called Fusion Platinum that adds leather on the dash, piped seating and other tech and luxury upgrades. The other is the new Fusion Sport, which adds all-wheel drive (AWD) and a 2.7-liter 325-horsepower V6 engine, blending family-car and sports-sedan sensibilities into one car. The rest of the lineup sticks with 4-cylinder engines, while the two hybrid models — the Fusion Hybrid and plug-in Fusion Hybrid Energi — return to anchor the eco-friendly end of the lineup.
The 2017 Ford Fusion wants to be all things to all people, and it does a surprisingly good job of it, in both front- and all-wheel-drive forms (FWD, AWD). All benefit from a sporty suspension and sharp steering, from the base models with their 2.5-liter 4-cylinder, mid-level models with their punchier and more efficient turbocharged 1.5-liter 4-cylinder, or higher-end models with the 240-horsepower 2.0-liter 4-cylinder. If you're looking for an even sportier experience, the new 2017 Fusion Sport offers a twin-turbo 2.7-liter V6 and AWD, while luxury shoppers can opt for the new Platinum model. If you're more practical than hedonistic, the two different Fusion Hybrids — regular and plug-in — offer fuel-friendly and nicely sorted driving; there's also a Platinum version of both if you're in the have-it-and-eat-it camp. The easier-to-use Sync system improves the driving experience of any Fusion model that has it.
PLUG-IN HYBRID VERSION
With electrification a bigger deal these days, the Fusion Hybrid Energi with its 21 miles of electric-only driving range is a serious player that could let its driver go literally weeks without refueling. But you can still take that road trip thanks to the gasoline engine, and a subsequent 610-mile range.
V6 POWER
Fine, we're suckers for horsepower, and the 2017 Ford Fusion Sport has it in spades with its 2.7-liter 325-horsepower twin-turbo V6. Coupled with AWD and an even better suspension, the Fusion Sport promises to be an Audi A6 for those on a budget.
The new 2017 Fusion Platinum interior, with its stitched dash and premium leather seats with contrast piping, is sumptuous enough to make the Lincoln MKZ feel redundant. Other upgrades this year for the rest of the lineup include a rotary shifter and electronic parking brake. However, Ford has largely kept the roomy 5-passenger interior intact. It's roomy enough for four adults, three kids can fit in back, and its big trunk holds more than a Honda Accord's. Hybrid models have a smaller trunk owing to the battery, but even they have a pass-through to the rear seats for longer items.
The grille, headlights, lower bumper and taillights on the 2017 Fusion have been reworked subtly, but effectively. It still looks like an Aston Martin, but that's no bad thing. Platinum models add extra chrome and unique wheels, while Fusion Sport models go for a sporty demeanor with standard fog lights, a mesh grille and charcoal-colored wheels. On a practical note, the clever EasyFuel capless gas-filler system means you'll never again lose the fuel cap, or have to wrestle it open or closed. Fusion Energi models use a lighted ring around the charge port, with a fully lit ring meaning charging's complete.
The base-model 2017 Fusion S comes nicely equipped, starting with a 2.5-liter 4-cylinder and 6-speed automatic transmission. On top of that, the Fusion S comes with manual climate control, a tilt/telescoping steering wheel, audio system with USB and auxiliary inputs, a rearview camera, and Ford's Sync wireless communication system with voice control. Fusion SE models add a 10-way-power driver's seat, rear air vents, a 6-speaker audio system and 17-inch wheels. Higher-end models get the powerful 2.0-liter turbocharged engine, upgraded audio systems, Sync3 with greatly improved usability, and niceties like dual-zone auto climate control, leather seating and 18-inch wheels.
Besides the two new models — the performance-oriented Fusion Sport and the near-luxury Fusion Platinum — there are plenty of stand-alone options. You can add blind-spot monitoring, lane-keeping assistance and adaptive cruise control with collision warning to help expand driver awareness, and make the Fusion an excellent road-trip sedan. There's a reverse-sensing system to warn you of obstacles, and an Active Park Assist system will actually parallel-park the car for you. All-wheel drive is also available on SE, Titanium, Sport and Platinum models, making it one of the few family sedans ready for foul-weather security in Snowbelt states.
There are six different ways to motivate your 2017 Fusion. The base 2.5-liter 4-cylinder exists, and you should skip it. Instead, start at the SE sedan, which comes standard with the 1.5-liter turbocharged 4-cylinder, with the option of upgrading to the 2.0-liter version. The 2.0-liter is standard in the Titanium and Platinum models. Fusion Sport comes with a new-for-Fusion 2.7-liter twin-turbo V6 with 325 horsepower, making it the most powerful car in its class. The two electrically augmented Fusion models — Fusion Hybrid and Hybrid Energi plug-in — use a 2.0-liter 4-cylinder gasoline engine and electric motor coupled to a continuously variable automatic transmission for excellent fuel economy; the Energi has up to 21 miles of EV range. AWD is available with the 2.0-liter 4-cylinder.

2.5-liter inline-4
175 horsepower @ 6,000 rpm
175 lb-ft of torque @ 4,500 rpm
EPA city/highway fuel economy: 21/32 mpg

1.5-liter turbocharged inline-4
178 horsepower @ 6,000 rpm
177 lb-ft of torque @ 1,500-4,500 rpm
EPA city/highway fuel economy: 23/34 mpg

2.0-liter turbocharged inline-4
240 horsepower @ 5,500 rpm
270 lb-ft of torque @ 3,000 rpm
EPA city/highway fuel economy: 21/31 mpg (FWD), 20/29 mpg (AWD)
2.0-liter inline-4 and permanent magnet AC synchronous motor (hybrid)
188 horsepower (total)
129 lb-ft of torque @ 4,000 rpm (gasoline engine only)
EPA city/highway fuel economy: 43/41 mpg
2.0-liter inline-4 and permanent magnet AC synchronous motor (plug-in hybrid)
195 horsepower (total, with full battery charge)
129 lb-ft of torque @ 4,000 rpm (gasoline engine only)
EPA city/highway fuel economy: 97 mpg-e, 42 mpg combined
2.7-liter twin-turbo V6
325 horsepower @ 5,500 rpm
350 lb-ft of torque @ 3,500 rpm
EPA city/highway fuel economy: 17/26 mpg
The 2017 Ford Fusion S with its standard 2.5-liter 4-cylinder engine starts with a Manufacturer's Suggested Retail Price (MSRP) of about $23,000, including the $875 destination charge. However, the SE offers more for your money at about the $25,000 mark when equipped with the 1.5-liter 4-cylinder. Titanium models start at about $31,000; the new V6 Fusion Sport at about $34,300, and the Fusion Platinum at about $37,500. AWD adds about $2,000. A base Hybrid S starts at about $26,000, with prices spanning all the way up to the $42,000 Hybrid Energi Platinum. The 2017 Fusion's price spread is on par with the Toyota Camry, Honda Accord, Nissan Altima and Chevy Malibu. Be sure to check the KBB.com Fair Purchase Price to see what others in your area paid for their 2017 Fusion. Resale value is near the top of the class, close to the Toyota Camry and Honda Accord.
Best Deals on a 2017 Ford Fusion for December
Ford's Certified Pre-Owned (CPO) program is dealing big on nearly new Fusions for the remainder of the holiday season. Now through January 4 th , it's offering low annual percentage rate loans for qualified buyers and many other attractive financing options on all 2017 Fusions. The deals can potentially save you thousands over higher rate loans from a bank or credit union.
In 2017 the Ford Fusion was available in many trim levels and with several engines, including the new Fusion Sport, which featured a very powerful twin-turbo V6 and all-wheel drive. That year Ford also gave the sedan a revised look with cleaner lines and many updates to its interior including a clever rotary shifter and a new infotainment system with Android Auto and Apple CarPlay compatibility.
The current offers apply to all models in stock. Ford makes it easy to shop inventory online as well as apply for the best deals. Buyers can also estimate their monthly payments and calculate the value of the trade-in quickly and easily.
The best deals in brief
Now through January 4 th , Ford is offering a very low 1.49 annual percentage rate of on all CPO 2017 Fusions, including front-wheel drive and all-wheel drive models.
Ford's Certified Pre-Owned program extends the vehicle's limited and powertrain warranties and adds a long list of extra perks, including a 90-day free subscription to SiriusXM radio, to sweeten the deal.
Американский Ford Fusion предвестил обновление Mondeo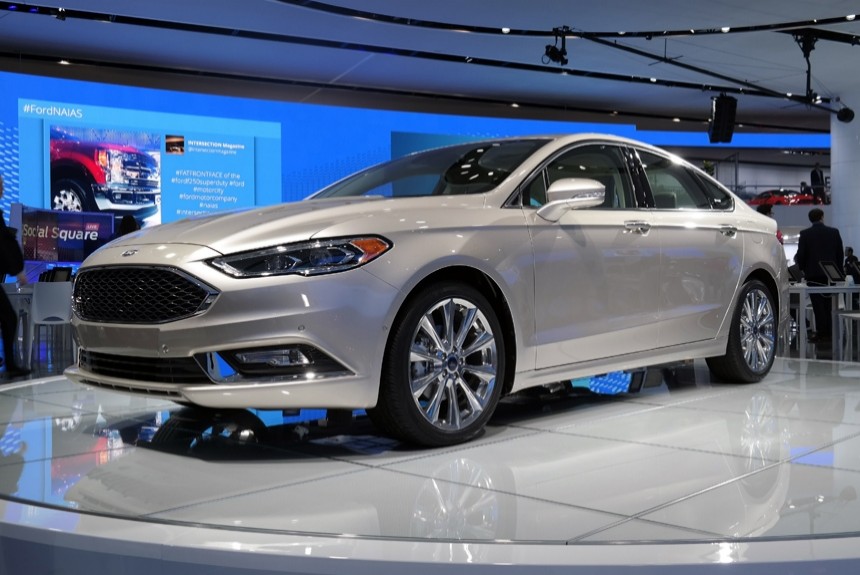 Это у нас в России новый Ford Mondeo продается меньше года, а на американский рынок почти такой же автомобиль под названием Ford Fusion вышел еще в 2012 году, поэтому сейчас пришло время плановой модернизации.
Хищный взгляд фар американского седана подчеркнут уголками светодиодных ходовых огней. Как водится, изменились бамперы и решетка радиатора, хотя с лица это по-прежнему «народный Aston Martin». Главное изменение в салоне — поворотная шайба-селектор «автомата» вместо традиционного рычага. Из-за этого перекомпонован центральный тоннель, подстаканники расположены удобнее, а подлокотник и бокс под ним стали больше. Еще одна обновка — мультимедиасистема Sync 3 с расширенными возможностями. Для нее можно заказать надстройку Sync Connect, которая позволяет управлять некоторыми функциями со смартфона: можно, например, дистанционно запрограммировать запуск двигателя, разблокировать замки дверей, узнать уровень топлива или давление в шинах.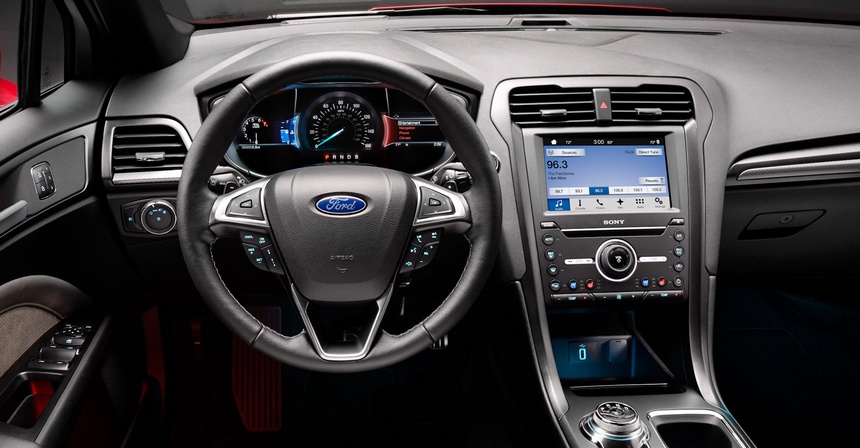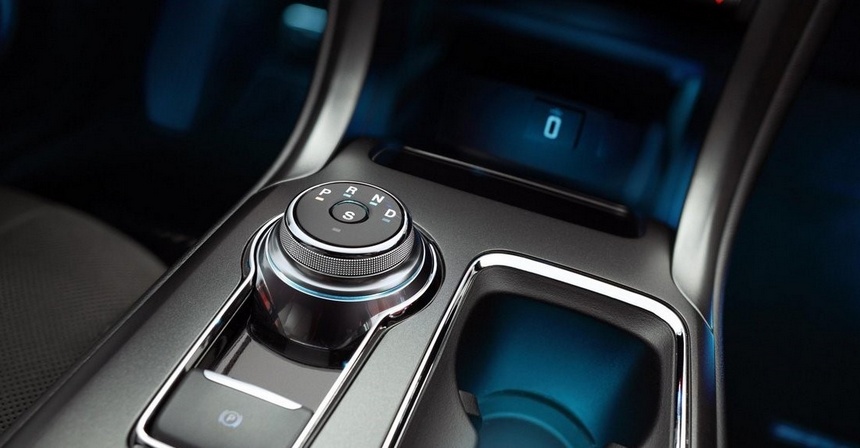 Из гаммы исключен базовый атмосферник 2.5 (177 л.с., но на российском Mondeo он дефорсирован до 149 л.с.), хотя выбор модификаций и без него неплох: это машины с турбомоторами EcoBoost 1.5 (184 л.с.) и 2.0 (243 л.с.), а также бензоэлектрические версии Hybrid и Energi — обе с двухлитровым атмосферником и электромотором суммарной мощностью (143 л.с.), но у Energi более емкая батарея с возможностью подзарядки от розетки. Появилась богатая комплектация Platinum с особой отделкой салона — эдакий аналог европейских версий под суббрендом Vignale.
А еще с рестайлингом на Fusion вернулся двигатель V6! Топ-версия Sport оснащается битурбомотором 2.7 EcoBoost мощностью 330 л.с., полным приводом и адаптивной подвеской. Снаружи такой седан можно опознать по увеличенным воздухозаборниками, четырехстволке выхлопной системы, иной решетке радиатора и 19-дюймовым колесам.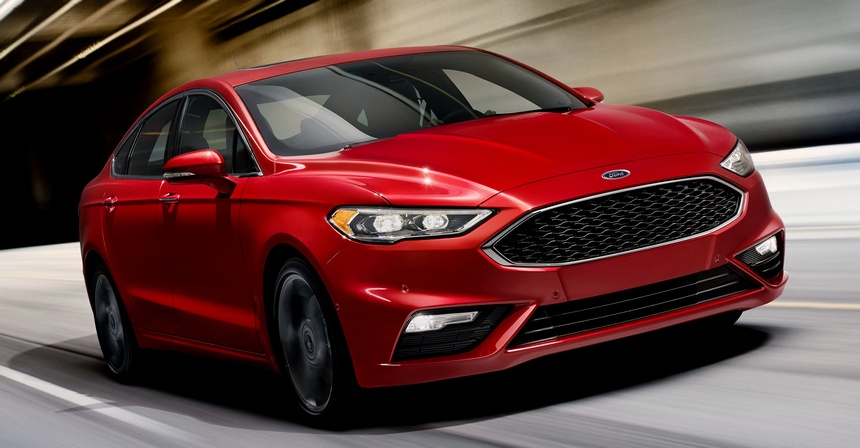 Ford Fusion V6 Sport
Фордовцы особо подчеркивают, что подобных версий нет у освновных конкурентов вроде Тойоты Camry и Хонды Accord, но едва ли она поможет в рыночной борьбе с этими машинами. По итогам 2015 года Ford Fusion нашел в США 300 тысяч покупателей — впереди и Camry (429 тысяч), и Accord (356 тысяч), и Nissan Altima (он же Teana, 333 тысячи машин).
Европейское семейство Ford Mondeo наверняка переживет похожие метаморфозы, но не раньше 2017 года, хотя мотор V6 на европейских машин едва ли появится. А следом обновится и российский Mondeo — запасемся терпением.
2017 Ford Fusion Sport first drive: A fitting name

Manufacturers love to throw around the word "sport." They attach it to trim names, package names and special-edition names, but it usually doesn't mean much. Ford—a company on a roll right now as far as building sporty cars: GT, GT350, RS—just added the word to its midsize Fusion sedan, and God bless 'em, it's actually sporty. Stick with us here, but when you add 85 hp and 110 lb-ft of torque, albeit with a bigger, turbocharged engine, it's going to make the car sportier.
The only available powertrain in the 2017 Fusion Sport is a 2.7-liter twin-turbo V6 making 325 hp and 380 lb-ft of torque matched with a new six-speed automatic and all-wheel drive. You may be familiar with that EcoBoost, it's been known to pull around an F-150 or two. The Fusion Sport comes in at a porky 3,982 pounds, that's 377 pounds heavier than the Honda Accord, its main rival along with the Toyota Camry. Both of those sedans also offer overpowered V6s, making this a sweet time to get into midsize sedan ownership.
Some of the extra heft comes from the new-for-2017 tech including pre-collision warning, pedestrian detection, park assist ($995), auto emergency braking, adaptive cruise control with stop and go ($1,195), Sync 3 and Android Auto/Apple Carplay. That's in addition to the returning stuff like lane-departure and blind-spot warnings, lane keeping and the rear-view camera. Ford says that a company's midsize sedan "is the number one influencer of brand opinion." This is obviously false, as Autoweek is the number one influencer of brand opinion.
The Sport gets bigger wheels than the rest of the lineup, 19s as opposed to 17s, a dark grille, a sharper front clip and twin dual exhaust. Dark rims with Goodyear Eagle F1 tires are standard, summer Continentals are optional, as is a sunroof. It certainly looks the sport part and it has the numbers to back it up. Could we possibly have an American version of an German autobahn burner?
Not quite. The Fusion Sport is fast, and feels lighter than its 2-ton mass, but it's no S4 replacement. It is, however, a genuinely fun-to-drive midsize sedan. In this segment, that's a statement. The V6 is quiet on startup, but when prodded it growls. Only some of that is "enhanced" (played over the stereo). We put the pedal to the floor and the jelly bean-shaped Ford squirts off the starting line like the Roadrunner, sans a cloud of smoke, thanks to the all-wheel drive.
It's fast, with no qualifiers. And the new six-speed, more robust to handle the extra power, just cranks through the gears without a hiccup. Ford doesn't release 0-60 times for its more pedestrian cars but we were pointed to a YouTube video of a guy clocking 5.6 seconds on his no-prep first try. That was Corvette territory not too long ago. After stomping the lightweight gas pedal, thrust builds to about 3,000 rpm and then stays smooth to the redline. The Sport comes standard with paddle shifters on the wheel, though the six-speed will shift automatically at the top of the range and won't really downshift until the revs drop down significantly.
The Sport's sport mode is new for 2017. It changes seven characteristics, including the "powertrain" sound, steering feel, throttle response, transmission shift points, the tuning of the continuously controlled damping — we'll get to that in a second — it adds a sport icon in the cluster and doesn't allow the trans to go back to automatic mode after it's put in manual.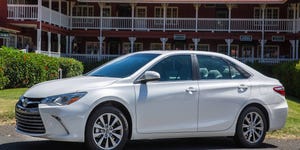 Overall, the sport button livens everything up a notch. All of the responses from the controls are faster and the whole package makes the Fusion feel like something sportier than a standard grocery getter. But it isn't night and day, so don't expect that. The steering is a bit quicker, the throttle response and shift points are a bit more high strung and the damping is a little firmer. We switched to that mode early in our drive and find all of those changes perfectly suited to everyday driving.
About those continuously controlled dampers, they're from Tokico and use the Fusion's onboard computers to analyze signals collected from 12 sensors. But it's not just for spirited driving. When the system "sees" a pothole, it adjusts the shocks to their stiffest setting, so the wheel doesn't drop all the way in. When it doesn't fall in, the back edge of pothole is hit less harshly easing the audible and physical pain. The front wheels then tell the back wheels what's coming, and they can pre-adjust for the impending strike. Even at their stiff setting, the shocks on the Fusion never provide an overly hard ride. They do decrease body roll in more aggressive corners, but we'd only rank the Fusion Sport as a 6 on the stiffness scale, not nearly up to an enthusiast's needs. Steering is quick and easy, but without a lot of feel.
The Sport comes standard with leather seats and suede inserts, they're soft and comfortable, and there's enough suede in the bottom to make them hold well in corners. The throttle and brake pedals are dressed in aluminum and a big dead pedal sticks out like brick in the footwell. Push-button start and leather wheel are both standard. Ford somehow resisted the urge to go suede or square-shaped. The styling is subdued inside, especially for a sport model, with mostly black rubberized plastic and a few shiny parts. There's a touch of faux carbon fiber that runs from door to door. Visibility and back-seat space are both good. The A-pillar was thinned for 2017, making it easier to see around corners.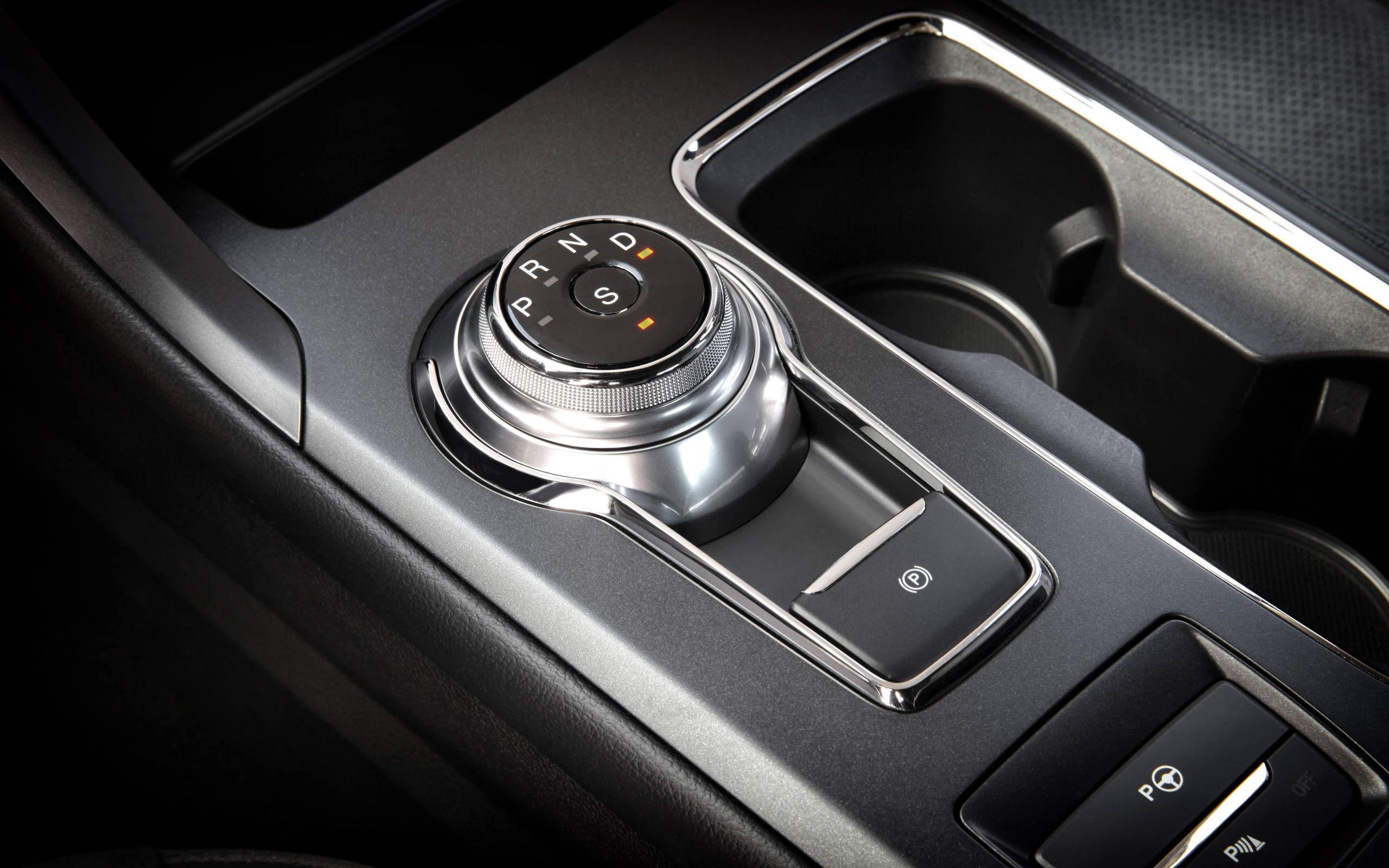 The fastest Fusion doesn't come cheap. It starts at $34,350 and the ones we tested were in the 40K range. The V6 Camry starts at about $32,000 and the Honda Accord is about the same. We suppose if you optioned out either of those, you'd get to 40K, too. So the price is fair, if seemingly expensive, for a Fusion.
If you want something that's fun to drive with space for the kids, this is it. The all-wheel-drive system and the V6 do push combined mileage down to 20 mpg, so don't expect too much cred from your eco-conscious friends. It won't fill the enthusiast space in your heart either, even though it is undeniably "sporty." We'd actually say it's more sport touring or maybe ST, but the Focus already has that trim name locked down, so here we are with Sport. And finally, it is.
Vehicle Model Information
BASE PRICE: $34,350
AS TESTED PRICE: $41,350
POWERTRAIN: 2.7-liter twin-turbochaged V6; AWD, six-speed automatic
OUTPUT: 325 hp @ 5,500 rpm; 380 lb-ft @ 3,500 rpm
CURB WEIGHT: 3,982
FUEL ECONOMY: 17/26/20 mpg
OPTIONS: Rapid Spec Group 401A; ruby red metallic paint; park assist; adaptive cruise with stop and go; navigation; driver assist pacakge
PROS: By definition, it's sporty
CONS: Not aggressive enough for the true enthusiast
2017 Ford Fusion Sport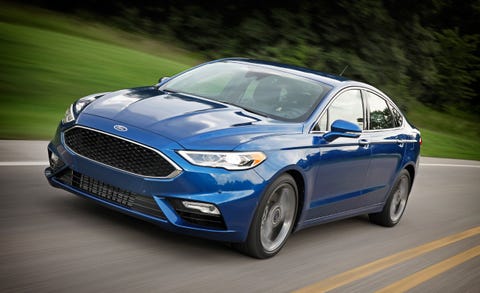 How does any automaker claw its way up the tortuous mid-size family-sedan staircase? Besides getting the basics right—like packaging and technology—power, performance, and driving poise are three P's that most tickle our fancy. Realizing this, Ford aspires to move its Fusion up from the bottom half of the pack with a new Sport package for the otherwise mildly revised 2017 model. Having now driven the Sport, we can say that those who own our favorite mid-sizers—the Mazda 6, Chevrolet Malibu, and Honda Accord—had better watch their mirrors for a black mesh grille closing fast in the passing lane.
Dropping in a 2.7-liter twin-turbo V-6 borrowed from the F-150 and the Edge Sport between the Fusion's front fenders vaults this sedan to 325 horsepower and a husky 380 lb-ft of torque, making it the first modern mid-size family sedan to snap the 300-hp leash. That's an excellent start—but the Fusion development team kept their heads down to deliver a well-rounded package to support the newfound horsepower. The six-speed automatic is a heavier-duty unit controlled by paddles attached to the leather-wrapped steering wheel. Behind that, there's computer-controlled all-wheel drive consisting of the usual front-drive transaxle plus a longitudinal driveshaft and a rear differential engaged on demand by a clutch. The crowning touch is what Ford calls continuously controlled damping. Borrowed from the Lincoln camp, these computer-controlled dampers give the Fusion the legs it needs to run competitively in the sport league.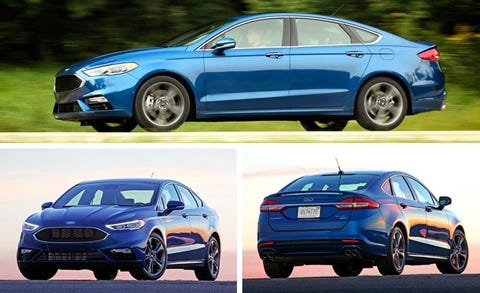 The surge when you indulge the throttle would tax the front tires so much that they'd dissolve in smoke and torque steer if not for the rear rubber pitching in during maximum-demand situations. You can feel this happen and see the torque delivery shift rearward via a handy live pictogram in the instrument cluster. The only downside is that you must relinquish the too-small tachometer gauge to watch the captivating all-wheel-drive plot. We're predicting a 5.3-second zero-to-60-mph run, which would be 0.5 second quicker than our tests of the current-generation Honda Accord V-6 sedan, which packs 278 horsepower.
Smack in the middle of the console-mounted rotary shifter is a magic S button that must be punched for any driving exercise more strenuous than crawling through commuter traffic. When this mode is engaged, half a dozen good things happen. Throttle response sharpens. The soundtrack is artificially enhanced with deeper bass-sax solos. Steering effort rises and the adaptive dampers tighten their control of wheel and body motion. A more aggressive shift program for the transmission is selected and the paddle shifters are given additional authority, though not enough to avoid automatic upshifts at 6000 rpm. The powertrain software does, at least, hold gears through corners and match revs during braking for a tight turn.
The car we drove rode on gray-painted aluminum wheels wrapped with 235/40R-19 Goodyear all-season tires. Their grip was adequate, but we're looking forward to trying the optional summer tires. The electrically assisted steering is nicely calibrated for effort but could be a touch quicker to deal better with the inevitable understeer at the adhesion limit. Ford engineers agreed with us that there's too little feedback from the road to charm serious driving enthusiasts and promised to dial in more feel as soon as they find some means of accomplishing that noble aim.
What impressed us most is how shrewdly the dampers behave to support flat-out driving without wounding the ride a whit. Amazingly, tread-impact noise was noticeably lower with the S mode engaged during our attack of some of our favorite test roads near our Ann Arbor headquarters. While Tokico supplies this hardware, Ford engineers are proud of the software calibrations developed in-house just for this application.
Aside from better steering feel, our wish list includes higher-capability brakes with less pedal travel, some feedback, and more fade resistance. Add to that stiffer seat bolsters so there's something beyond the perforated suede trim to hold you in place when your mood turns sporty.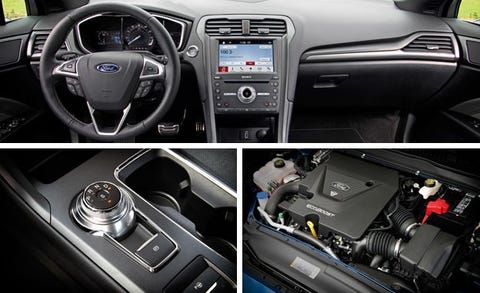 The interior trim is available only in charcoal gray. The Sport décor provides something for everybody—leather, suede, contrast stitching, hard and soft plastics, matte-finished metal, a few chrome touches, and the requisite faux-carbon-fiber accents. One lapse is that there's been no apparent attempt to align the dash-to-door-panel gaps, something we've noticed in a few other Fords we've tested recently. We have no such gripes about the back seat. The cushions are chairlike, you can slide big feet past the rear of the center console, and the center seating position is useful for actual adults.
The Fusion Sport starts at $34,350 and heads expeditiously for $40,000 with navigation, various driver assists, and sparkly paint options. We expect it to succeed in large part because of the upgrades that Ford invested in this mainstream model for the 2017 facelift. In addition to a few discreet exterior touches and LED lighting upgrades, the optional Sync 3 and Sync Connect infotainment systems are smarter than previous iterations and offer both Android Auto and Apple CarPlay connectivity. Buyers new to this category will be impressed by Ford's extensive suite of driving assists, which include pre-collision pedestrian detection, automatic emergency braking, adaptive cruise control, a rearview-mirror camera, blind-spot warning, and automatic guidance into both parallel and perpendicular parking slots.
We applaud Ford for proclaiming the Fusion Sport's elevated performance with quiet touches such as the black mesh grille and four exhaust tips instead of shouting it with RS or ST badges. This is a commendable step in the driving-enjoyment direction that we're confident will lead to even more go in the next-generation Fusion due for the 2019 model year. Now that the 300-horsepower ceiling has been breached, 400 must certainly be within reach.
Specifications
VEHICLE TYPE: front-engine, 4-wheel-drive, 5-passenger, 4-door sedan
BASE PRICE: $34,350
ENGINE TYPE: twin-turbocharged and intercooled DOHC 24-valve V-6, iron and aluminum block and aluminum heads, direct fuel injection
Displacement: 164 cu in, 2694 cc
Power: 325 hp @ 5500 rpm
Torque: 380 lb-ft @ 3500 rpm
TRANSMISSION: 6-speed automatic with manual shifting mode
DIMENSIONS:
Wheelbase: 112.2 in
Length: 191.8 in
Width: 75.2 in Height: 58.2 in
Passenger volume: 106 cu ft
Cargo volume: 16 cu ft
Curb weight (C/D est): 4000 lb
PERFORMANCE (C/D EST):
Zero to 60 mph: 5.3 sec
Zero to 100 mph: 14.6 sec
Standing ¼-mile: 14.3 sec
Top speed: 125 mph
FUEL ECONOMY:
EPA city/highway: 17/26 mpg
Car Review: 2017 Ford Fusion Sport
Ford's Fusion Sport packs a serious punch for the price
2017 Ford Fusion Sport
2017 Ford Fusion Sport
2017 Ford Fusion Sport
2017 Ford Fusion Sport
2017 Ford Fusion Sport
2017 Ford Fusion Sport
2017 Ford Fusion Sport
2017 Ford Fusion Sport
2017 Ford Fusion Sport
OVERVIEW
The Ford Fusion has so far passed largely under my radar. There's nothing wrong with the family-sized sedan; it's just that its businesslike appearance has allowed it to blend into the crowd maybe a bit too convincingly. That stealthy styling, however, works very much in favour of the Fusion Sport.
Unlike some other "sport" models out there, the Fusion Sport gets a healthy dose of performance without the accompanying gaudy styling accents. There's no hood scoop, aerodynamic flicks or airflow-channelling diffusers. There are no bold graphics declaring its sporting nature. There is a discreet spoiler on the deck lid, and it rolls on low-profile tires mounted on 19-inch wheels. Aside from that, the only other things that hint at its penchant for performance are the four tailpipes.
Moving inside, there's not much more to tip you off that you're in anything other than a family car. An uncluttered instrument panel features a logical gauge layout, with a large analogue speedometer flanked by two configurable colour screens. The centre stack has manual controls for the dual-zone climate control system, with redundant controls within the eight-inch infotainment and navigation colour touchscreen. Seating is firm but comfy, and there's good rear visibility thanks to small corner windows that allow a peek aft of the rear doors.
2017 Ford Fusion Sport
2017 Ford Fusion Sport
2017 Ford Fusion Sport
2017 Ford Fusion Sport
2017 Ford Fusion Sport
2017 Ford Fusion Sport
2017 Ford Fusion Sport
2017 Ford Fusion Sport
Despite the simplicity of the interior, all the important convenience features are there, including electrically adjustable heated and cooled front seats, a heated, telescoping and tilting steering wheel, two USB ports (both permitting Apple CarPlay and Android Auto connectivity), and two accessory outlets. The 12-speaker Sony sound system features Sync Connect and Sync 3; while it sounds great, it also lacks the power to rattle your neighbour's windows.
Push the start button and the Sport idles silently, giving no indication that anything is out of the ordinary — until you turn the shift dial to Drive, push the central S button and punch the throttle. That's when this boosted Fusion's 325 horsepower sinks you into the seat, accenting the forceful forward momentum with a throaty growl, enhanced in Sport mode but without that phony exhaust burbling and popping often programmed into the fuel management system of some sports cars.
Engaging Sport mode sharpens throttle response, alters shift points, firms up the suspension and adds a bit more weight to the already well-weighed steering. The engine pulls hard right up to redline, which is not surprising since the 2.7-litre turbocharged EcoBoost V6 is lifted from the F-150. The engine even produces more peak torque in the Fusion, claiming 380 lb.-ft. compared to the pickup's 375 lb.-ft. It proved quite amusing taking on new passengers, hammering the throttle while passing and witnessing the look of astonishment on their faces after being surprised by the sudden, forceful acceleration in what they initially mistook for a pedestrian sedan.
This power comes at a cost. Although premium fuel is not mandatory, you'll only get maximum horsepower when using it. Despite sub-freezing temperatures during our test drive, the Fusion was right on its claimed fuel consumption, measuring 13.3 L/100 km of mostly city driving (13.5 claimed city, 11.5 combined).
The engine drives all four wheels through a six-speed automatic which transitions smoothly between ratios, except when it hasn't yet warmed up in sub-freezing temperatures; at that point, it sometimes hangs up on a gear and is a bit abrupt when getting back on the gas.
Aside from the under-hood brawn, what really impresses is the Fusion's stellar ride quality. The Sport comes standard with continuously controlled damping, which self adjusts constantly based on the road surface. Whatever the advertised hype, the system works remarkably well, providing firm compliance that keeps body roll in check through turns, while remaining completely free of harshness. The Fusion's quiet, composed ride is largely due its Lincoln MKZ underpinnings.
Even in Sport mode, the suspension remains surprisingly compliant and composed, though it's too firm for comfort on rough city roads. The suspension also features pothole detection, which "keeps the tire and wheel from dropping as deeply into a pothole," according to Ford literature. The expectation is that potholes will magically disappear beneath the vehicle; the reality is that you still get a jolt when driving over potholes, but the system reduces the impact enough that you're not forced to slalom your way through town trying to avoid those dreaded pavement pockmarks.
The Fusion Sport comes standard with most of Ford's driver assists, including stop-and-go adaptive cruise control, lane-keep warning and assist, active parking assist, blind-spot monitoring, pre-collision assist and rear cross-traffic alert. Attentive drivers might think all of these assist systems are unnecessary, even annoying with all the warning beeps and steering-wheel tugs. But the rear cross-traffic alert proved very useful when it warned me of a pedestrian I didn't see approaching from the rear, while backing up on a rainy night.
2017 Ford Fusion Sport
It's also equipped with a remote starter, and although letting a car idle for minutes at a time isn't frugal or environmentally sound, the warm cabin and preheated seat and steering wheel were greatly appreciated one morning when the temperature read minus 25 Celsius.
So, where does this level of performance put the Fusion Sport? To get similar power in an all-wheel-drive car, you'd have to look at high-performance German sedans like the Audi S4, which starts at $54,000, a BMW 340i xDrive starting at $55,000, or the Mercedes-AMG CLA 45 4MATIC, at almost $52,000. The Fusion Sport costs just $42,288, and that includes all of the driver assists and convenience features mentioned above – as well as several more – with no available packages or options, aside from a few colour choices.
Sure, it lacks the interior refinements of its European counterparts, but it packs a powerful punch for that price and can match any of them in ride quality. And that should be enough to at least put it on many sport sedan buyers' radar.
2017 Ford Fusion V6 Sport revealed with all-wheel drive, twin-turbo power
2017 Ford Fusion V6 Sport revealed with all-wheel drive, twin-turbo power
The Ford Motor Company [NYSE:F] Fusion was already one of the most handsome offerings in its class, but for the 2017 model year the car gets a fresh new look as well as a performance version that boasts an all-wheel-drive system and a twin-turbocharged V-6. That performance version is the Fusion V6 Sport, and it debuted alongside the rest of the 2017 Fusion lineup at this week's 2016 Detroit Auto Show.
The current generation of the Fusion has been on sale since the 2013 model year. Key rivals like the Chevrolet Malibu, Kia Optima, Hyundai Sonata and Toyota Camry have all been either updated or renewed in the past 12 months, and now it's the Ford's turn.
We're glad to report that the Aston Martin-inspired grille has finally gone away, replaced with a similar, albeit wider and more aggressive looking design. The lights have also been tweaked at both ends and now feature LEDs. The Fusion V6 Sport is further differentiated by its more aggressive front bumper with deeper air intakes and glossy black grille insert.
Under the hood of the Fusion V6 Sport is one of Ford's EcoBoost engines. It's a 2.7-liter unit which thanks to direct fuel injection, twin-turbocharging and variable valve timing has an impressive output of 325 horsepower and 350 pound-feet of torque plus standard all-wheel drive. Regular Fusions come with front-wheel drive though some of these have the option for all-wheel drive.
2017 Ford Fusion
Other performance upgrades include 19-inch wheels, a rear spoiler, twin-exhaust tips and adaptive damping. The latter comes with a new pothole detection technology that, in less than the blink of an eye, adjusts the shock absorbers to greatly reduce the severity of impact transmitted to occupants. Incredibly, all of this can be yours for just $34,350, including an $875 destination charge.
The 2017 Fusion's base powertrain remains an anemic 2.5-liter four-cylinder. Next up the range is a turbocharged 1.5-liter four-cylinder EcoBoost, followed by a turbocharged 2.0-liter four-cylinder EcoBoost. Most models feature a six-speed auto, which is controlled via a new rotary dial gear shifter.
Hybrid fans are catered to with the Fusion Hybrid and Fusion Energi plug-in hybrid. These hybrids use the same 2.0-liter four-cylinder engine, mated to a two-motor hybrid system that substitutes for a transmission and operates like an electrified version of a continuously variable transmission (CVT). The plug-in hybrid has a 7.6-kilowatt-hour lithium-ion battery for an expected range of 19 miles using electric power only. The car automatically switches to the gasoline mill when the battery is depleted, allowing you to drive more than 500 miles when you also have a full tank of gas.
Finally, it's worth mentioning Ford has also added range-topping Platinum to the Fusion lineup. The trim adds niceties such as hand-wrapped leather for the steering wheel, instrument panel, and door trim. It also adds a unique grille, as well as special 19-inch alloy wheels.
The 2017 Ford Fusion lineup goes on sale this summer. Prices, including an $875 destination charge, are listed below:
2017 Fusion S: $22,995
2017 Fusion Hybrid: $26,060
2017 Fusion Energi: $33,995
2017 Fusion V6 Sport: $34,350
2017 Fusion Platinum: $37,495
2017 Fusion Platinum Hybrid: $37,895
2017 Fusion Platinum Energi: $41,995
More details on the 2017 Ford Fusion will be announced closer to the market launch. In the meantime, see what else is happening at the Detroit Auto Show by visiting our dedicated hub.