Обзор Aston Martin Cygnet V8 2018
Aston Martin Cygnet V8 review
A quick drive in Aston's quick little one-off rocket
Mike Duff
For proof, look no further than this one-off Cygnet V8 – both a celebration of one of the brand's least likely cars, and a manifesto piece for the company's bespoke Q Division and its ability to make even the least likely dreams come true.
Many still regard the Cygnet as Aston's lowest ebb. It was based on the Toyota iQ city car that was sold in Japan, Europe and – wearing Scion badges – the States.
Astonification was purely cosmetic with a graft of a DB9-like front grille, a natty paintjob and some plusher cabin materials, so all of the originals shared the same front-driving 1.3-litre four-cylinder engine as the donor car.
It was also a sales disaster, with Aston's plan of selling thousands a year falling dramatically short. Only around 300 were produced between 2011 and 2013 before it was quietly axed.
Yet a strange thing has happened since: the Cygnet has become a must-have for more dedicated Aston collectors. For affluent fans with garages full of the company's products, the gawky supermini has become the equivalent of a hard-to-get trading card.
Values have risen steadily and – in the UK – a Cygnet is now worth pretty much exactly what it cost when new. Indeed, this little runt is within a few grand of the value the market places on early versions of the Rapide. Go figure.
And now there's a V8 version, built by Aston itself, and which made its debut at the Goodwood Festival of Speed last month. We didn't get to drive it there, but after some strategic begging, CarAdvice was invited to come and have a turn on some of the roads around Aston's Gaydon HQ.
You may also like
The car is new, but the idea isn't. Aston engineers discussed the idea of creating a Franken-Cygnet years ago when it was realised that – with some surgery – the mechanical package of the previous-gen Vantage V8 could be crammed into the tiny body shell. That didn't happen, but when a well-heeled Aston collector heard the idea, he asked if he could pay for the creation of a single road-legal car.
Q Division was put in charge of the unlikely task, and after a 10-month program involving two Cygnet body shells left over from the original program, this is the result.
The Cygnet body shell has been modified to mate with the front and rear subframes from the Vantage, meaning twin-wishbone suspension at each corner. The front bulkhead has been moved around 300mm backwards to find space for the naturally aspirated 4.7-litre V8 and the radiator that sits ahead of this.
The transmission is the Vantage S's 'Speedshift' automated single-clutch gearbox; a rear-mounted unit that requires the two ends of the powertrain to be connected by a torque tube that's just 690mm long. Carbon-fibre wheel arch extensions cover both the dramatically expanded track and the need to accommodate 19-inch wheels, but the rest of the Cygnet bodywork is pretty much standard.
The big surprise is how uncompromised the finished car feels. The cabin features a new carbon-fibre dashboard and has been turned into a two-seater – the original Cygnet sharing the two-plus-one seating arrangement of the iQ.
There are a pair of huggy Recaro buckets with full six-point harnesses plus a full rollcage. But, apart from an offset driving position that sets the throttle and brake pedals at an ankle-cricking angle, it feels like this could be the car that Aston always intended to make.
The regular Cygnet's cheapo Toyota instruments and switchgear have also been binned, with the V8's electronic architecture now being mostly Aston. So there's a Vantage instrument pack as well as the 'PRND' transmission buttons from the sports car in a neat dashboard binnacle. There's even a fly-off handbrake between the seats.
And Aston's trademark glass key to fire the V8 into life.
The engine starts with a snarl that suggest only minimal silencing is impeding the flow of the exhaust gases. Even at a trundle it's loud enough to turn heads, with the incongruous sight of the pumped-up supermini that's making such an unlikely racket causing smiles, double-takes and raised camera phones wherever it goes.
In two decades of doing this job, I can honestly say I've never felt more like the centre of attention than driving the uber-Cygnet through rural England.
Performance is strong. Aston claims that in a straight drag race, the V8 Cygnet would have the legs on the Vantage S that donated its powertrain thanks to a 250kg reduction in kerb weight. The company's claim of a 4.2-second 0-60mph (0-97km/h) time feels entirely believable from the driver's seat, with the sensation of urgency enhanced by a nose-up attitude under hard acceleration.
Full throttle is definitely an occasional treat, although I doubt any traffic cops would be able to keep a straight face while writing a ticket.
Apart from sitting much higher, the other dynamic cues feel close to those of the Vantage at everyday speeds. The steering possesses a similar feel and weight, and the throttle delivers the same proportional responses.
The automated single-clutch gearbox has never been the smoothest-shifting 'box, and in the Cygnet the pauses between ratios seem longer and the torque bump when new gears arrive is bigger.
The guys who developed the car admit that getting the transmission to play nice in a car so much shorter and lighter than it was designed for has been an issue.
The ride is always firm, and on rougher surfaces it quickly gets choppy. Yet, overall, the Cygnet feels impressively stable when the relative sizes of its wheelbase and suspension track are considered, although you'd need to be a bottle of brave pills to make a serious attempt on the claimed 270km/h top speed.
There's no traction control, and it didn't take much of an overlap between throttle and steering input to provoke the tail-lightening sensation of an impending slide. That's not a tendency I had any ambition to explore in greater depth on the public roads in somebody else's irreplaceable one-off.
Some of those who drove the car at Goodwood reported it feeling twitchy under hard braking – the word «squirrelly» was used – but at real-world levels of retardation it felt stable enough to me. The hardest thing to get used to on everyday roads is the difference between the width of the cabin and how far out the wheels actually are. It would be embarrassingly easy to clip a kerb.
Aston won't say how much the Cygnet V8's new owner paid to realise this glorious dream, other than admitting it has cost enough to buy several of the company's more mainstream models. As part of the deal, Aston has agreed never to make another one, begging the question as to whether the V12 engine will fit.
Anybody who has an equally mad ambition for any of Aston's other products, and enough cash to make it happen, is warmly invited to contact Q Division to discuss it further.
Хэтч Aston Martin Cygnet породнился со спорткаром Vantage
У модели V8 Cygnet ― двухрычажная подвеска, пассивные амортизаторы и блокировка дифференциала. Кованые колёса обуты в шины размерностью 235/40 R19 спереди и 275/35 R19 сзади. Тормоза ― моноблоки с шестью и четырьмя поршнями (диаметр дисков ― 380 и 330 мм).
Харизматичному Джеймсу Бонду и автомобили подбирали соответствующие. Чаще всего экранный герой ездил за рулём Астон Мартинов ― DB5, DBS, V8 Vantage, Vantage Volante, Vanquish V12, DB10. Мощные, быстрые, дорогие автомобили. А на чём бы ездил сын знаменитого персонажа Яна Флеминга? Ответ на этот странный вопрос англичане дали на Фестивале скорости в Гудвуде, куда привезли созданную в единственном экземпляре малютку Aston Martin V8 Cygnet с потрохами от спорткара V8 Vantage S прошлого поколения. Такая сумасшедшая идея посетила голову одного из владельцев перелицованного хэтчбека Toyota iQ. Воплощением её в жизнь занималось отделение эксклюзивных проектов Q by Aston Martin.
Высота кузова достигает 1500 мм (как у стандартного iQ), а ширина ― 1920 мм (1680 у Тойоты). Развесовка по осям составляет 50:50 (у донора ― 49 на 51%). После доработки шасси 30-литровому топливному баку нашлось место только в багажнике.
Вместо прежнего салона ― аскетичное внутреннее убранство с неприкрытыми панелями из углеволокна, быстросъёмным рулём, гоночными креслами Recaro и четырёхточечными ремнями, каркасом безопасности и системой пожаротушения. Приборная панель ― от модели V8 Vantage S.
Подобная переделка ― не новость в автоиндустрии. Мы уже видели 600-сильный NIssan Juke R ― автомобиль с кузовом, напоминающим кроссовер Juke, и начинкой от купе GT-R. Британская история повторяет этот сюжет. Основа здесь ― именно Aston Martin Vantage V8. Кузов трёхдверки Cygnet сохранил почти все внешние панели, но инженеры серьёзно переделали пол и увеличили длину автомобиля с 2985 до 3708 мм. Надо же было как-то разместить силовой агрегат, подрамники, подвеску и заднеприводную трансмиссию от Вантиджа. О нём, кстати, напомнит оригинальная колея (1570 мм спереди и 1560 сзади) и 19-дюймовые легкосплавные колёса, которые накрыли углепластиковыми расширителями арок.
Aston Martin Cygnet появился для того, чтобы уменьшить среднее значение выбросов углекислого газа по модельному ряду британской компании. Но никому хэтчбек особо не нужен был. Ежегодно планировали продавать по 4000 машин, но с 2011-го по 2013 год куплено всего 300 штук (из 150 ― в Великобритании).
Как и у донора, у хэтча V8 Cygnet атмосферная «восьмёрка» 4.7 расположена спереди, а семиступенчатый «робот» Sportshift II (он же Graziano) сзади. Правда, пришлось укоротить вал, идущий от мотора к коробке передач, и переделать выпускную систему. Отдача двигателя прежняя ― 436 л.с. и 490 Н•м. Но снаряжённая масса у Сигнета составляет всего 1375 кг (у исходного спорткара — 1610 кг). Отсюда и выигрыш в динамике. Высокий хэтчбек набирает 97 км/ч на четыре десятых секунды быстрее ― за 4,2 с. Однако потом неважная аэродинамика берёт своё: если V8 Vantage S способен разогнаться до 305 км/ч, то максимальная скорость Сигнета ― 274 км/ч. Хотя и этот показатель кажется излишним для трёхдверки с колёсной базой 2020 мм.
Обзор Aston Martin Cygnet V8 2018
You are here
Reviews
Aston Martin
Cygnet
Aston Martin Cygnet V8 review: 430bhp city car tested
Facebook
Twitter
Google+
WhatsApp
Mailto
Copy link
More on this car
Book a test drive
Order a brochure
COMPARE CAR FINANCE
As ever there was all sorts in the supercar paddock at Goodwood this year: Koenigseggs to Ferraris, McLarens, Porsches, rarities such as the Brabham BT62 and Apollo Intensa Emozione, the previously unseen Polestar One, Lambo Urus, AMG GT 4dr. None, with the possible solitary exception of that astonishing Apollo, got more attention than this. And none, with no exceptions whatsoever, got more love than this.
The Aston Martin Cygnet V8. A proper 'what-if' made reality. Turns out you can fit the oily bits of the recently replaced Vantage S into the bodyshell of a Cygnet. Well, provided you fatten up the arches a bit.
What's going on here?
Aston claims it's a one-off commissioned by a customer (who already owns a Vulcan), although privately I suspect it's actually been in quiet development by a bunch of engineers for quite a while. After all, leave some clever people alone with a small city car and a large V8 and sooner or later the inevitable will happen. At least you hope so – if it needed a customer to point out the potential here, something is misfiring up at Aston.
At the back the rear transaxle gearbox (yes, it's rear-drive only through Aston's Sportshift automatic gearbox) has required a few changes. The fuel tank is currently in the boot.
VIDEO
And.. does it work?
Conventionally enough if you know your Astons. Press glass key into dash, rumbling and barking occurs, press D, release fly-off handbrake and off you go. Now, Aston stressed that although the package has been made to work, it hasn't yet received much actual development. It's very softly sprung, upshifts takes an age, it points at the sky under acceleration, and appears to want to dive beneath the tarmac under braking.
But the weird thing is that it feels more like a Vantage than I ever expected. The centre of gravity is low, so even though you sit high, the car is much more stable and confidence-inspiring than I feared. The weight feels well centred in the car. OK, the stubby wheelbase makes it nervous when it dives under braking and the lag in the gearbox means you have to be patient when getting back on the power, or a spike of torque can twitch the back axle, but these are eradicable issues.
Must be quite light, though?
It's not as light as you'd expect. With no optimisation done yet, it's around 1,350kg. Although that's a useful quarter of a tonne lighter than a regular Vantage S, I suspect this only feels faster because it's less well planted on the road. Is it actually 430bhp? Couldn't care less. It's bloody fast enough, OK?
Understood. So it's good, then?
The fundamentals are good, and that means that when pointing in a straight line up the Duke of Richmond's crested course you can keep it pinned and relish the exceptional noise and determined acceleration. It's not an angry car, more an exuberant one, a natural performer delighted to have an audience. It grips, it goes, it handles (after a fashion) and it's a proper, honest-to-goodness, belly-tickling, shoulder-shaking, thigh-slapping laugh. A proper anti-depressant. Should be available on prescription.
Aston Martin Cygnet возвращается. С двигателем V8
История самого маленького Aston Martin — Cygnet — который, прямо скажем, даже и Aston Martin назвать было особенно нельзя — Toyota iQ за бешеные деньги с шильдиком британского производителя спорткаров — казалось бы, закончилась в 2013 году, когда его производство решено было все же свернуть. Началось-то оно с желания Aston Martin как-то прощупать почву городского элитного компактного автомобиля, который бы соответствовал ужесточающимся нормам выбросов в Европе и США. Цель была — продавать по 4 000 Cygnet в год, но, например, в США было продано всего 150 штук, что совсем не похоже на успех.
Однако Cygnet вернулся. Не то, чтобы совсем — в единственном экземпляре, в который засунули двигатель V8 вместо его обычной рядной «четверки».
Aston Martin построил этот Cygnet по заказу одного из состоятельных клиентов. Решено было использовать двигатель V8 объемом 4,7 литра от предыдущего поколения Vantage S, мощностью 430 л.с. Максимальная скорость составляет 270 км/ч, что на 100 км/ч быстрее, чем у серийного малыша. Хоть это и смешно, но Aston Martin заслуживает уважения за установку такого большого двигателя в такой крошечный автомобиль. Официальная премьера состоялась на фестивале скорости в Гудвуде, где ему самое место — среди эксклюзивных, мощных и дорогих автомобилей.
Для проекта был взят обычный кузов Cygnet, в который был интегрирован трубчатый каркас безопасности. Чтобы установить большой двигатель, усилили каркас моторного отсека и изменили тоннель трансмиссии. Топливный бак пришлось размещать в багажнике.
Помимо двигателя, модели досталась от Vantage S и роботизированная семискоростная корбка передач, а также элементы тормозной системы и системы охлаждения двигателя. Подрамники и подвеска также от предыдущего поколения Vantage.
Невозможно не заметить широкие колесные арки — колею пришлось расширить для устойчивости. Плюс появились 19-дюймовые диски. В салоне установили спортивные сидения Recaro с четырехточечными ремнями безопасности и съемное рулевое колесо, обшитое алькантарой.
Вот вам видео с фестиваля скорости в Гудвуде — малыш звучит крайне сочно:
Aston Martin Just Took Its Ill-Fated Cygnet Microcar and Stuffed a V-8 in It
The upgrade is the surprising answer to one customer's surprising question.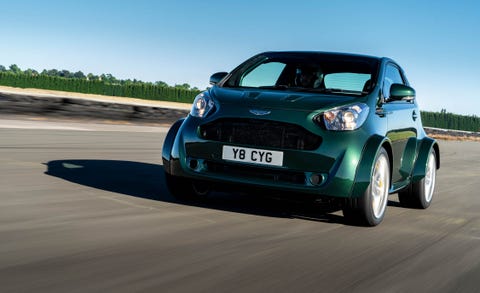 If you hold, as we do, that the combination of a small car and a large engine is a noble one, then this Aston Martin is a true aristocrat. While we are slightly surprised that at least one well-heeled owner asked the question, "Will a V-8 fit into the Aston Cygnet?" we are extremely glad that the company chose to answer in the affirmative. The result is the one-off 430-hp supermini that is making its debut this weekend at the Goodwood Festival of Speed in England.
When new, the Aston Cygnet was generally regarded as an ugly duckling. Dating from the still recent period when Aston had more ambition than development budget, it was a tarted-up version of the Toyota iQ (our Scion iQ), and it featured a more luxurious interior and what looked to be a grafted-on DB9 grille. It cost twice as much as the Toyota it was based on but was powered by the same 1.3-liter four-cylinder engine, which directed a dizzying 97 horsepower to the front wheels.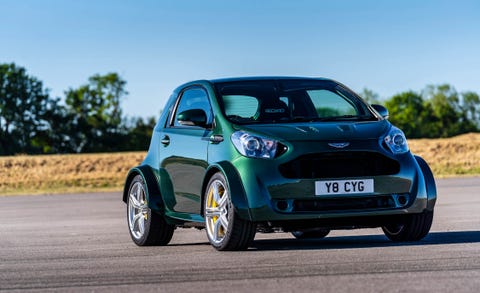 The Cygnet died in 2013 after two years of minimal sales, with little more than laughter following it to the grave. Yet the intervening years have brought a strange change and a rehabilitation that has seen the least likely Aston become something of a cult car. Highly prized by Aston Martin collectors, the model is regularly advertised at prices above the nearly $40,000 base price that the car commanded when new.
And now, at the request of an owner, the Q by Aston Martin department has turned the Cygnet into a car with performance worthy of its badge. Extensive surgery has seen the 4.7-liter V-8 from the outgoing Vantage transplanted into the stubby front end; a conversion to rear-wheel drive means that the automated Sportshift II single-clutch automatic transmission sends the engine's output to the drive wheels via a very short torque tube. We're told that the car weighs just over 3000 pounds and, according to Aston Martin, is capable of outaccelerating the V8 Vantage S, with a claimed 4.2-second zero-to-60-mph time and a 170-mph top speed.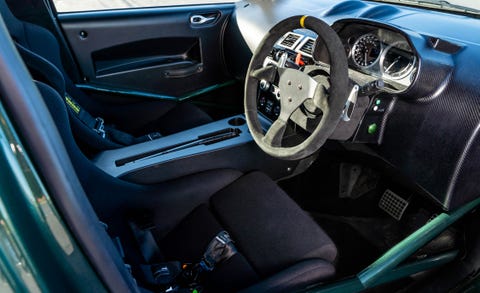 The project might sound like a Frankenstein special, but the uber-Cygnet has been completed with Q by Aston Martin's usual attention to detail. It features a motorsports-grade full roll cage, Recaro racing bucket seats with full four-point harnesses, and a fire-suppression system as well as a removable steering wheel. The bodywork has been stretched using new carbon-fiber panels that accommodate 19-inch wheels (the stock Cygnet maxed out at 16s) and fat Bridgestone tires. Braking is by 15.0-inch front discs gripped by six-pot calipers, with 13.0-inch discs at the rear.
With the agreement of its owner, who has paid an undisclosed amount for the conversion, Aston is rolling out the V8 Cygnet at the Goodwood Festival of Speed, where it will be running on the famous hill-climb course throughout the weekend. A company spokesman told us the plan is for "entertainment rather than pace," with what we imagine will be an abundance of tire smoke. Any other Cygnet owners wanting something similar, though, are out of luck: Aston insists the V8 will be a one-off.
Aston Martin Cygnet review (2011-2012)
The Aston Martin Cygnet offers something unique — city car running costs with the hand-built luxury of a classic British sports car
Easy to drive, cheap to run, impressive cabin
Hugely expensive, impractical, other city cars better to drive
The Aston Martin Cygnet is based on the Toyota iQ city car, but comes with a completely redesigned body and a hand-crafted interior. According to Aston Martin it takes the team 150 hours to create a Cygnet, and the impressive quality can be seen in the hand-stitched leather interior. Unfortunately the way the Cygnet drives lets it down, and there's a hugely expensive price tag, which makes it incredibly difficult to justify buying a Cygnet. If only Aston had made further changes to the handling and engine of this city car, then it may have been easier to recommend.
Our choice: Aston Martin Cygnet 1.33
Engines, performance and drive
The Cygnet is powered by the same 1.33-litre petrol engine that's found in the Toyota iQ. Performance is identical too, which means that there's plenty of performance for driving around town, but you may struggle to keep up with fast-flowing traffic on the motorway – not a complaint you can normally make of an Aston Martin. On the plus side, the Cygnet is incredibly easy to drive around town because of its compact footprint. A CVT automatic gearbox is available as an option, but it's noisy and best avoided unless you prefer the ease of an auto.
MPG, CO2 and Running Costs
As far as city cars go the Cygnet is far from the cheapest to run but CO2 emissions of 116g/km put it in one of the lowest tax brackets, while fuel economy of 57mpg should ensure that your trips to the petrol station aren't too regular. Anyone who can afford to buy a Cygnet won't be too concerned about servicing costs and the like, but with its Toyota iQ underpinnings there won't be any hefty bills to worry about anyway.
Interior, design and technology
There's nothing else on the road that looks like an Aston Martin Cygnet. It's got the proportions of a city car but the styling of one of Aston's supercars, including the wide chrome grille and boomerang tail-lights. The interior is hand finished with the finest leather and Alcantara, which is where the Cygnet attempts to justify its astronomical price tag.
Practicality, comfort and boot space
Theoretically you're supposed to be able to fit four people in an Aston Martin Cygnet, but it will definitely be a squeeze if you attempt it. The generously padded leather seats have cut rear legroom even more than in a Toyota iQ, and while boot space remains identical, there's only really enough space to carry a day's worth of shopping.
Reliability and Safety
The engine and electricals have proved themselves in the Toyota iQ, and Aston Martin has thankfully left them untouched. That means there should be very little that goes wrong, and even if it does, Aston Martin's customer service team will ensure it's fixed as soon as possible. Safety should impressive as the iQ scored five stars from Euro NCAP. That's partly down to the curtain and knee airbags that are included as standard.