Rover 75 2005
Czy warto kupić: używany Rover 75 (od 1998 do 2005 roku)
Klasyczna stylizacja, bogate wyposażenie, mocne silniki oraz atrakcyjne ceny na rynku wtórnym. Brzmi kusząco? Oczywiście. Trzeba jednak mieć na uwadze sporą awaryjność i zaawansowanie techniczne, które podnoszą koszty serwisowania. Czy warto kupić używanego Rovera 75?
W latach 90. XX wieku Rover stał się własnością BMW. Niemiecki koncern zamierzał postawić brytyjską legendę na nogi, przy okazji podnosząc jej prestiż. W gamie brakowało nowoczesnej limuzyny segmentu D – Rovery 600 i 800 nie były w stanie nawiązać równorzędnej walki z konkurencją. Poza granicami swojej ojczyzny marka Rover była przez wielu kierowców identyfikowana głównie ze współpracą z Hondą oraz kompaktowymi modelami 200 i 400.
W 1998 roku Rover przedstawił prototyp limuzyny klasy średniej wyższej, która kilka miesięcy później trafiła do salonów sprzedaży. Rover 75 czarował wyglądem nadwozia i wnętrza. Designerom udało się perfekcyjnie połączyć styl retro z niezbędną dawką nowoczesności. Po 15 latach od premiery Rover 75 wciąż wygląda nobliwie.
Współpraca Rovera i BMW została zakończona zaledwie rok po uruchomieniu produkcji modelu 75. Brytyjczycy samodzielnie wprowadzili na rynek wersję Tourer (2001) — kombi z 400-litrowym bagażnikiem, 260-konnego Rovera 75 V8 (2003), jak również dokonali faceliftingu modelu 75 (2004). W ramach modernizacji przebudowano pas przedni. Grill powiększono, a miejsce owalnych reflektorów zajęły lampy zespolone. Estetyka rozwiązania jest dyskusyjna – Rover 75 zatracił część specyficznego stylu retro.
Kariera odświeżonego Rovera 75 szybko dobiegła końca. W kwietniu 2005 roku pogłębiające się problemy finansowe zmusiły Rovera do zawieszenia produkcji. Model 75 przetrwał jednak zawieruchę. Prawa do jego produkcji zostały wykupione przez chiński koncern SAIC, który rozpoczął wytwarzanie limuzyny pod marką Roewe 750. Samochód przeszedł kilka modernizacji i jest oferowany do chwili obecnej. Wróćmy jednak do brytyjskiego pierwowzoru…
Rovery 75 powstawały w Oxfordzie i Longbridge (od 2000 r.). Pierwsze z wymienionych poznamy po czarnych progach. Producent zapewniał, że Rovery 75 z Longbridge są nieco lepiej wykonane, jak również skuteczniej zabezpieczone przed korozją od tych z Oxfordu. Trzeba jednak podkreślić, że w przypadku Rovera 75 rdza nie stanowi poważniejszego problemu – jeżeli atakuje, to głównie układ wydechowy.
Wnętrze Rovera 75 wykończono w stylu typowym dla brytyjskich limuzyn – nie brakuje skóry, drewna i chromu. Akcenty w stylu retro to świetny kamuflaż. Pod tapicerką kryje się nowoczesna elektronika i wiązka multipleksowa – bliźniacza ze stosowaną w BMW. Oczywiście można też znaleźć powody do narzekania. Intensywne czerwone podświetlenie kokpitu nie wygląda najładniej, konsola środkowa jest wykonana z tandetnego tworzywa, a schowek wypełnia zmieniarka CD.
Roverowi należy się natomiast pochwała za podejście do kwestii wyposażenia. Nawet w bazowej wersji było ono bardziej niż przyzwoite. Na pokład większości egzemplarzy trafiły przynajmniej cztery poduszki powietrzne, ABS, klimatyzacja, system audio, fotele z regulacją podparcia lędźwiowego, elektrycznie sterowane szyby i lusterka oraz kolumna kierownicy z dwupłaszczyznową regulacją. Rover 75 mierzył wysoko, co przekładało się na dosyć długą listę opcji — nie zabrakło na niej nawet nagłośnienia firmowanego przez Harman Kardon. O ile samochody z takim udogodnieniem polecamy melomanom, tak warto szukać egzemplarza z czujnikami parkowania. Spore rozmiary karoserii, masywne słupki oraz ponad 11-metrowa średnica zawracania potrafią skutecznie utrudnić manewry.
Kabina została bardzo dobrze wyciszona. Szczególnie dobre warunki do podróżowania mają osoby zasiadające na przednich fotelach. Siedzenia są obszerne i właściwie wyprofilowane, a miejsca nie brakuje. Ilość przestrzeni z tyłu, jak na 4,7-metrowy samochód, jest skromna. Rover 75 nie imponuje także rozmiarami bagażnika. Kufer sedana ma tylko 432 litry pojemności, a walizki trzeba przekładać przez wysoki próg. Na szczęście zawiasy klapy nie wnikają do przestrzeni ładunkowej, pozwalając na jej pełne wykorzystanie. Również kombi daleko do miana «bagażówki» — do linii okien uda się zapakować zaledwie 400 litrów. Jedynym pocieszeniem są regularne kształty kufra oraz uchwyty do mocowania bagażu. Za dopłatą Rover 75 Tourer otrzymywał siatkę oddzielającą przedział bagażowy od pasażerskiego, która znacząco podnosi możliwości przewozowe.
Mimo że Rover 75 powstawał pod dyktando BMW, nie otrzymał napędu na tylną oś. Klasyczne rozwiązanie zastosowano tylko we flagowym wariancie V8. W słabszych odmianach moment obrotowy trafia na przód. Niezależne zawieszenie, zbliżone do stosowanego w BMW serii 3, zapewnia zdecydowanie więcej komfortu i przechyłów na zakrętach niż sportowych wrażeń, których zainteresowani zakupem Rovera 75 raczej nie szukali. Do ostrej jazdy zniechęcają też hamulce podatne na fading, jak również układ kierowniczy o ograniczonej precyzji.
Amatorzy mocniejszych wrażeń powinni szukać modeli MG ZT (sedan) oraz MG ZT-T (kombi) z utwardzonym zawieszeniem, 18-calowymi felgami, kubełkowymi fotelami i pakietem stylistycznym. Sportowy bliźniak Rovera 75 nie jest częstym gościem na rynku wtórnym, ale poważnie zainteresowani zakupem na pewno znajdą wymarzony egzemplarz.
Pod maskę Rovera 75 trafiały benzynowe silniki 1.8 (120 i 150 KM; MG ZT — 160 KM), 2.0 V6 (150 KM), 2.5 V6 (177 i 190 KM) i 4.6 V8 (260 KM) oraz turbodiesle z Common Railem 2.0 (116 i 131 KM). Motory 1.8, 2.0 V6 i 2.5 V6 są autorskimi konstrukcjami Rovera. 120-konne 1.8 oraz 2.0 V6 zapewniają przeciętne osiągi, jednak zadowalają się odpowiednio 8,1 i 9,6 l/100km. Doładowany 1.8T (150 i 160 KM) pozwala cieszyć się jazdą przy umiarkowanym spalaniu. 2.5 V6 domaga się 11,8 l/100km. Kulturalnie pracujące i oszczędne, ale niezbyt mocne turbodiesle dostarczało BMW, natomiast flagowe 4.6 V8 zapożyczono z Forda Mustanga.
Na temat awaryjności Roverów krążą legendy. Jak sprawy mają się naprawdę? Dekra nie pozostawia na Roverze 75 suchej nitki, twierdząc, że we wszystkich kategoriach jest on dużo bardziej awaryjny od przeciętnego samochodu segmentu D (tak Dekra zaszeregowała brytyjską limuzynę). Za newralgiczne podzespoły uznano układ hamulcowy (korozja przewodów), zawieszenie (wybite tuleje wahaczy; pękające sprężyny — głównie przednie) oraz elektrykę i elektronikę (problemy z poduszkami powietrznymi, które są następstwem braku styku w kostkach elektrycznych).
Problemy ze złączami elektrycznymi mogą także prowadzić do nieprawidłowego działania panelu wskaźników. Stosunkowo często zawodzi mechanizm elektrycznej regulacji położenia foteli oraz centralny zamek. Przyczyną problemów z elektroniką bywa woda, która zaczyna wnikać do kabiny, gdy otwory drenażowe ulegną zapchaniu. Specjalnej troski wymagają tylne hamulce — problemów przysparzają bębny hamulca ręcznego. Trwałością nie zachwyca też zawieszenie, jednak przyzwoita podaż zamienników korzystnie wpływa na koszty napraw. W trosce o własną kieszeń warto unikać kombi z opcjonalnym systemem samopoziomowania tylnego zawieszenia.
Do puli najmniej trwałych elementów zespołu napędowego zaliczane są pompy sprzęgła, wysprzęgliki, koła pasowe oraz alternatory, których obudowy potrafią pękać.
Najbardziej problematycznym z silników jest bazowy 1.8. Jednostka z serii K słynie z wypalania uszczelki pod głowicą. To następstwo specyficznej, «warstwowej» konstrukcji motoru oraz niesprawności układu chłodzenia — zawodzą termostaty, jak również dochodzi do wycieków płynu. Kolejnym mankamentem układu chłodzenia jest podatny na uszkodzenia wentylator chłodnicy. Ten ostatni zawodzi również w samochodach z widlastymi motorami. Ich ogólna trwałość jest jednak dobrze oceniania. Typową usterką motorów V6 są defekty systemu VIS, który odpowiada za zmianę długości kanałów dolotowych. Turbodiesle BMW są trwałe, ale oczywiście należy przygotować się na typowe choroby silników wysokoprężnych – zużycie dwumasowego koła zamachowego, wtryskiwaczy i przepływomierza.
Używanego Rovera 75 można kupić za naprawdę rozsądne pieniądze. Elegancki i dobrze wyposażony samochód jest jednak propozycją dla konesera, który nie będzie próbował oszczędzać na jego utrzymaniu. Rovera 75 trudno rekomendować osobom ponad wszystko ceniącym bezawaryjność. Lista potencjalnych problemów jest spora. Niewielka liczba wyspecjalizowanych warsztatów utrudnia serwisowanie samochodu. Dużo mniejszym problemem są natomiast części zamienne — przez internet błyskawicznie kupimy zarówno nowe, jak i używane podzespoły.
Polecane wersje silnikowe
Benzynowa 2.5 V6: Podstawowy silnik 1.8 jest zbyt słaby, by zapewnić przyjemność z jazdy. Sprawniej porusza się Rover 75 z motorem 2.0 V6, natomiast wyraźny skok osiągów zapewnia wariant 2.5 V6 — generuje 27 KM i 55 Nm więcej od 2.0 V6. Silniki wywodzą się z jednej rodziny, co przekłada się na podobną usterkowość. Według katalogu motor 2.5 V6 powinien palić tylko 0,2 l/100km więcej od 2.0 V6. W praktyce wszystko zależy od ciężaru stopy kierowcy.
Wysokoprężna 2.0 CDTI: Turbodiesel BMW dysponuje wystarczającym zapasem mocy (131 KM) i momentu obrotowego (300 Nm) do napędzania sporej limuzyny. Punktuje również dobrym wyciszeniem oraz rozsądnym zapotrzebowaniem na paliwo — w cyklu mieszanym z baku pobiera średnio 7,1 l/100km. Zaletą silnika jest również przyzwoita trwałość.
Zalety:
+ Piękna stylizacja nadwozia i wnętrza
+ Bogate wyposażenie
+ Atrakcyjne ceny używanych egzemplarzy
Wady:
— Wysoka awaryjność
— Ograniczona podaż zamienników
— Znaczne koszty utrzymania
Bezpieczeństwo:
Wynik w teście EuroNCAP: 4/5 (badanie w 2001 r.)
Ceny wybranych części zamiennych — zamienników:
Wahacz (przód): 270-500 zł
Tarcze i klocki (przód): 300-600 zł
Sprzęgło (komplet): 300-800 zł
Przykładowe ceny ofertowe:
1.8, 1999 r., 175000 km, 9 tys. zł
2.0 CDTI, 2003 r., 200000 km, 12 tys. zł
2.5 V6, 2002 r., 150000 km, 17 tys. zł
2.0 CDTI, 2004 r., 170000 km, 20 tys. zł
Характеристики Rover 75 / Ровер 75
Технические характеристики Rover 75 / Ровер 75. Узнайте габариты, расход топлива Rover 75 / Ровер 75, особенности двигателей, подвесок, кузовов и прочих технических характеристик автомобилей Rover 75.
Выберите модель Rover 75: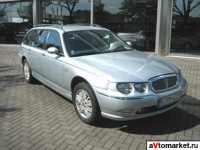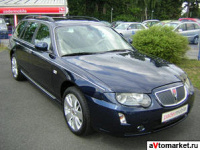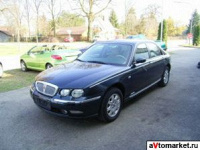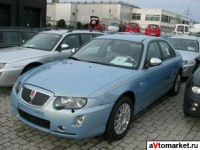 Ответы
История Rover 75 / Ровер 75
В октябре 1998 года на автошоу в Бирмингеме состоялся дебют Rover 75. Автомобиль сменил на конвейере 600 и 800 серии. Модель представляет собой плод тесного сотрудничества BMW и «Rover». На разработку ушло четыре года работы и 700 млн фунтов стерлингов. Внушительность затрат объясняется тем, что автомобиль создавали принципиально новый.
Облик получился по-английски изысканный. Все, начиная со стильных обводов решетки радиатора и заканчивая характерной задней стойкой, эффектно переходящей в поверхность багажника, подчинено философии целостности дизайна, где каждый элемент безупречно вписывается в общий образ автомобиля. Тонкое использование хрома во внешней и внутренней отделке, придают свою долю шарма. Характерные сдвоенные фары могут быть ксеноновыми, что позволяет добиться более мощного и равномерного освещения. Для улучшения обзорности слегка увеличили боковые зеркала, сохранив при этом их привлекательную каплевидную форму.
Rover 75 выпускается в двух вариантах кузова: седан и универсал 75 Tourer (дебютировал весной 2001). Оба варианта располагают одним из самых стильных, изысканных и комфортабельных салонов. Внутреннее убранство поражает роскошью приборной панели, отделанной полированным ореховым шпоном, с богатыми овальными шкалами спидометра и тахометра благородного цвета слоновой кости и круглыми стрелочными часами. Дорогой мягкий пластик, немного спортивный трехспицевый руль с логотипом Rover, тяжелые хромированные ручки дверей, велюр или кожа высших сортов — все гармонично собрано воедино.
Вся информация выводится на многофункциональный дисплей бортового компьютера и прочие контрольные приборы, предоставляя водителю полные сведения о состоянии каждой из систем автомобиля. Rover 75 сам предупредит Вас о необходимости посещения сервисного центра и даже о том, какие именно операции потребуется провести. Умная электроника автоматически включает стеклоочистители и регулирует режим их работы в зависимости от интенсивности осадков, а в случае замерзания или запотевания заднего стекла автоматически включается обогрев.
Шикарные удобные сиденья, обеспечивают отменную поддержку и комфорт. Индивидуальное пространство каждого пассажира продуманно до мелочей. Тишина внутри салона достигается за счет двойной шумоизоляции моторного отсека и применения стекол большей толщины.
Причем при всей своей респектабельности и претенциозности Rover 75 не лишен сугубо практичных элементов как, скажем, складное заднее сиденье с люком для перевозки длинномерных предметом. А заднее сиденье универсала складывается не только целиком, но и по частям.
Предлагаются три варианта комплектации — Classic, Club и Connoisseur, каждая впечатляет списком стандартного оборудования. Главной изюминкой более дорогих комплектаций Club и Connoisseur является климат-контроль, который, в отличие от обычного кондиционера, автоматически поддерживает в салоне выбранную температуру.
Особое внимание конструкторы Rover 75 уделили жесткости кузова, используя новый сплав, сочетающий в себе прочность и легкость. Компактная передняя подвеска МакФерсон и революционная Z-образная задняя подвеска наделяют автомобиль отменным управлением. Особая геометрия подвески, обеспечивающая минимальный уровень продольных колебаний автомобиля, служит залогом устойчивости даже при интенсивных торможениях и ускорениях, а рулевой механизм с гидроусилителем и оптимальным передаточным отношением 18:1 гарантирует комфортное и надежное управление Rover 75 на любых скоростях.
Основу гаммы двигателей для седана и универсала Rover 75 составили три бензиновых двигателя: бюджетный атмосферный 4-цилиндровые 1,8 и мощный 1,8 Turbo, а также 2,5 V6.
Автоматическая коробка имеет пять передач, которые позволяют получить более энергичное ускорение с любых скоростей и одновременно улучшить экономические показатели автомобиля. В трансмиссии есть три разных режима — Normal (обычный), Sports (спортивный) и Winter (зимний) — каждый из них предназначен для определенных дорожных условий.
Безопасности специалисты Rover уделили особое внимание. Rover 75 сконструирован таким образом, чтобы максимально защитить своих пассажиров и их багаж от той потенциальной опасности. Более 40% кузовных деталей изготовлено из специальных высокопрочных сплавов. Силовая структура пола, защитные брусья в дверях, усиленные панели в районе ног водителя и пассажира в совокупности формируют основу так называемой «защитной капсулы» для пассажиров. Дополнительное усиление дверных проемов по периметру позволяет избежать заклинивания дверей при фронтальном ударе. Среди других элементов пассивной безопасности: фронтальные и боковые подушки безопасности для водителя и пассажира, преднатяжители ремней безопасности и специально спрофилированные сиденья, предотвращающие подныривание человека под ремень безопасности в случае аварии.
На самом высоком уровне и система активной безопасности. В стандартную комплектацию Rover 75 входят четырехканальная система ABS с EBD и дисковые тормоза на всех колесах.
Есть на Rover 75 и многоступенчатая противоугонная система. Она надежно блокирует замки дверей, багажника, лючка бензобака и незамедлительно включит сигнализацию при малейшем намеке на вторжение. Плюс иммобилайзер двигателя и дистанционное управление с плавающим кодом.
Достоинств немало: очень жесткий кузов, сложная «BMW-образная» задняя подвеска, достойный набор двигателей, современные системы активной и пассивной безопасности, широкий выбор роскошных материалов для отделки салона, богатая палитра характерных цветов кузова, возможность заказать автомобиль с эксклюзивной отделкой Personal Line. Все это позволило Rover 75 завоевать титул автомобиля года в Великобритании.
В 2004 году вышла модернизированная версия Rover 75. Это обновление – первое с начала массового производства автомобиля в 1999 году. Сказать, что «семьдесят пятый» кардинально изменился, нельзя. Первое, что сразу бросается в глаза – это головная светооптика. Теперь она представляет собой не сдвоенные круглые фары, а модные блок-фары. Определенному ретушированию подверглись передние крылья и капот – они получили заметно более резкие очертания. Решетка радиатора стала чуть крупнее, и теперь она еще удачнее вписывается в видоизмененный бампер.
Экстерьер Rover 75 дополнили хромированной рукояткой крышки багажника, повторителями указателей поворотов, более стильными колесными дисками и совершенно новой цветовой гаммой.
Двигатели и трансмиссия у обновленного Rover 75 остались прежними.
Rover 75 reviews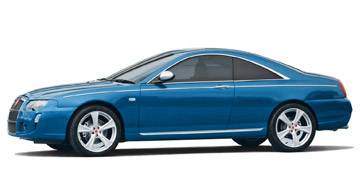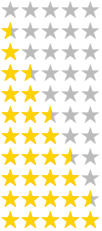 I Love this car !
Added: 28th of January 2020
2004
1986
Automatic
Diesel
Saloon
5
I have only had the car for a couple of months but I have nothing but praise so far. 86K on the clock with service history. It has a few scrapes and imperfections that I was not going to bother with, but now I am intending to get them sorted as I love this car now. I use it as a weekly commute covering 200 miles, and so far it has been an absolute pleasure to drive. Plenty of comfort, and enough power to sit at 75/80 comfortably in luxury with little cabin noise. For what you can pick these up for it is an absolute steal. These are a well kept secret, the BMW Diesel lump will keep going and going. The owners club is worth joining as there is a wealth of knowledge out there and the forum has been invaluable to me so far. Do your research and go get yourself an amazing car for an amazing price.
Hidden gem of a car
Added: 28th of March 2019
2003
1998
Manual
Diesel
Estate
5
Owned this car 13 years and driven 200,000 miles. Bought 3 years old at 23,000 miles. Never let me down. Some pricey repairs recently which I was unable to do myself (rear suspension arms) along with some electrical faults now evident. (Rad fan seized and drivers door lock failed)Would continue to repair but my age and fitness no longer allow. Still looks and drives like new. Sadly looking to scrap in July as residual value virtually nil now. Just a shame Rover failed would buy another before anything else.
Glide Ride with distinction
Added: 8th of March 2018
2001
2000
Manual
Diesel
Saloon
4
1998 Motor show launch A fleeting glance As if by chance I waited til 2001 To kick off the fun Covered 172k miles ever since A beautiful and brilliantly detailed car that glides along regally. I love driving it
British Classic
Added: 28th of June 2017
2005
2500
Automatic
Petrol
Saloon
4
Bought this car 2 years ago, FSH and 62k. It has never let me down, nice comfortable drive and nice power when sports mode engaged. I have since fitted a K & N air filter and a MG ZT exhaust system among other things. As i have only done 72k (10k in two years) and maintained the car as one should, this car is now valued at more than i paid for it. Love this car.
My rover 75
Added: 13th of March 2017
2003
2000
Manual
Diesel
Saloon
4
I have had my rover 75 9 months paid 415 pounds on Gumtree couldn't believe condition immaculate loads of paperwork just sailed through mot 1 tyre luxury car love it everybody comments on it
ill all ways have one got 1.8 allso love them best casr ever
Added: 13th of March 2017
2004
2000
Manual
Diesel
Saloon
4
the cars are good the 1.8 is about 35 mpg but the diesel 75 i have on the road whent from cannock staffs to Canterbury past london and back on only 55 pounds that was 440 miles for a big car thats mint what a shame that rover lost there fight with the best car ever just a little too late with this car that could have saved them if thay had it sooner i cant fault it mine as done 200000 and runs like its still new ill keep it till i cant fix it and then ill get a 75 again. diesels are the best wish thay still made them here thay were that good that thay are still being made but u need to go to china to bye one new and if thay are making them u know thay are a good car thay are now called Roewe and look even better inside and a lovely 2 door thay do THAY STILL LIVE ON
Marvellous car you can be proud to drive
Added: 21st of January 2017
2004
1796
Manual
Petrol
Saloon
5
I bought my 75 1.8T in June 2015 with 24000 on the clock. it was my first post 1975 car I bought and what a brilliant car it turned out to be. I found it was easy to work on and modify to my taste and a strong club backing to support with sourcing parts and tips for conversions. people need to remember that these are becoming old cars now so if you buy one make sure you have some spare dosh to spend on repairs! there are still many (ex) Mg Rover service centres who have the correct knowledge and tools and parts to keep your pride and joy on the road. these cars can be full of problems so again make sure you are happy to spend money on them many of the problems have now been sorted via the clubs and they are not prone to problems any more than any other car. marvellous cars
Disappointed prospective buyer
Added: 16th of January 2017
2003
2000
Automatic
Diesel
Estate
5
Got notification that this car had just came onto market. No picture was available but the information provided showed the vehicle to be just what I was after. Contacted the garage , Signature Car Sales Airdrie and made enquirey about the car and was told it has gone straight into the garage for the mechanics to do their stuff. Pictures would be on and nothing would be done without contacting me as I had made first enquirey . Went online next morning still no photoes and advert stated car was gone. Contacted garage again and was told still in workshops will call me when they find out what's happening. Still no call to this day , sounds to me as though something has been done slightly underhand . Very disappointed as most of these vehicles are down south. Still on the hunt but won't be getting involved with Signature Car Sales.
Rover 75 2.0 CDTi Contemporary





Review
BMW must have believed the best strategy for launching a new Rover was to recapture the glory days of the P5 and P6, although with a car that was modern in size, construction and execution.
There must have been people at Rover who thought differently and, following the separation from BMW, the first Rover concept car revealed in Geneva was a modern-looking estate car.
The entire Rover range, led by the 75 in February, has had a thorough makeover. The 75 has had essentially the same line-up and appearance as in 1998 when it was launched.
The thirsty 2.0-litre V6 was dropped in favour of the more frugal and responsive 1.8T a couple of years ago and the lower-power diesel is almost never mentioned. The appearance of the 75 has been refreshed, with more modern headlamp units and grille. Inside, darker instruments with a modern typeface have replaced the ivory-coloured dials. Not that the original 75's instruments had Roman numerals indicating speed and rpm, but you feel there has been a conscious effort to modernise things where possible.
The intermediate model grade, Club, which sounded stuffy, has been dropped, but Classic and Connoisseur have been retained.
The new trim level, Contemporary, is roughly the same price as Connoisseur but with a different emphasis so now the grading reflects what the premium manufacturers offer, such as Mercedes-Benz's Classic, Elegance and Avantgarde.
However, you can't just label a car Contemporary and pretend it's an Audi A4. Giving a car a name with certain connotations doesn't immediately bestow it with those atributes. Do you remember the Mitsubishi Carisma?
Inside, the walnut dashboard of the Classic has been replaced by dark grey wood – similar to Sport models in the Jaguar range – the seats are different from those in the Classic and Connoisseur models and are seemingly lifted from the MG ZT models. Outside, there is less chrome trim than on the other models and a few other features to distinguish it from the rest of the range.
Our test car was the 129bhp diesel, which uses an upgraded version of the original BMW-sourced common rail diesel, but while most rivals achieve Euro IV compliance, this Euro III unit could have a financial impact on drivers.
However, maximum torque of 221lb-ft comes in at 1,900rpm and maximum power is achieved at a remarkably low 3,500rpm. It means the Rover 75 provides its performance with the hushed tones that accompany such low revs.
A sports handling pack is available as an option to introduce sharper reactions because as standard there is still a bias towards comfort – surely if people want that sort of thing they will choose and MG ZT.
It means there is more body roll than in something like a Peugeot 407 and duller reactions from the steering, but it will be quite acceptable for most drivers.
Rover 75 2.0 CDTi Contemporary
Delivered price, standard car (P11D value): £20,122
CO2 emissions (g/km): 163
BIK % of P11D in 2004: 21%
Graduated VED rate: £135
Insurance group: 9
Combined mpg: 48.8
CAP Monitor residual value: £5,875/29%
Depreciation (21.52 pence per mile x 60,000): £12,912
Maintenance (2.95 pence per mile x 60,000): £1,770
Fuel (8.44 pence per mile x 60,000): £5,064
Wholelife cost (32.89 pence per mile x 60,000): £19,734
Typical contract hire rate: £352 per month
All figures based on 3yrs/60,000 miles. Monthly rental quote from HSBC Vehicle Finance
Three rivals to consider
Honda Accord Executive 2.2 i-CTDi
Peugeot 407 Executive 2.0 HDi
Toyota Avensis T Spirit 2.0 D-4D

THE Rover 75 has a real premium car feel about it and is built to premium car standards, but the used market doesn't value it as a premium car, so its best chance is up against these high-spec upper-medium cars. Although the new Contemporary grade sits alongside Connoisseur, it has a rather less archaic tone about its interior. However, the other three cars listed here all offer a great deal more equipment for the money.

Toyota £19,662
Honda £20,060
Rover £20,122
Peugeot £20,277

WITH a 60,000-mile maintenance bill of £1,770, the Rover doesn't perform well among these mainstream rivals, particularly against the Toyota Avensis which would cost £1,374 – nearly £400 cheaper. The Honda weighs in at £1,422, while the Peugeot 407 would cost £1,572 to maintain. The Rover has the longest service intervals at 15,000 miles between visits to the dealer, compared with 12,000 for the Honda, while the Toyota needs a check every 10,000 miles.

Toyota 2.29ppm
Honda 2.37ppm
Peugeot 2.62ppm
Rover 2.95ppm

ONE of the Rover's better rounds, the BMW-sourced common rail diesel might be less advanced than the engines in these rival cars, but it has a marginal fuel cost advantage of £12 over 60,000 miles over the Toyota Avensis and £96 over the Peugeot, with a fuel bill of £5,064. The Accord, however, appears to be in a different class with a 60,000-mile fuel cost of £4,713, which is more than £300 cheaper than the Rover.

Honda 7.86ppm
Rover 8.42ppm
Toyota 8.44ppm
Peugeot 8.58ppm

Depreciation costs

THE Rover costs nearly £600 more than the Avensis in depreciation at £12,912, and narrowly beats the Peugeot 407 which would lose £13,164. All three of these cars, according to CAP Monitor, are within two percentage points of each other around the 30% mark. However, the Accord is on 38%. Its depreciation bill is £11,352 – a difference of nearly £1,500 compared to the 75.

Honda 18.92ppm
Toyota 20.58ppm
Rover 21.52ppm
Peugeot 21.94ppm

Wholelife costs

THE Rover just edges out the Peugeot in this comparison with its wholelife cost of £19,734, compared with £19,884 – that's only a difference of £150 over three years/60,000 miles – about three tanks of diesel. The Toyota has a more definite advantage at £18,786, nearly £1,000 less than the Rover 75. However, the Accord finishes the clear winner in the group with a wholelife cost of £17,490 giving it a margin of more than £2,000 over the Rover 75.

Honda 29.15ppm
Toyota 31.31ppm
Rover 32.89ppm
Peugeot 33.14ppm

Emissions and BIK tax rates

BOTTOM of the class for this one, because the Rover not only has the highest carbon dioxide emissions in the comparison, it also has the only engine that does not yet comply with Euro IV emissions. A 40% taxpayer in the Rover can expect to pay £141 a month, but a similar driver in the Honda Accord would have a monthly bill of £100. The Toyota driver would pay £111 a month while the Peugeot driver would see £115 a month deducted in BIK tax.

Honda 143g/km/15%
Peugeot 155g/km/17%
Toyota 155g/km/17%
Rover 163g/km/21%

THE predecessors of the Rover 75 and the current Honda Accord were once closely related, sharing the majority of components as part of a partnership between Honda and Rover. Now the Honda and Rover are very different machines, but are both skirting around the edges of the premium sector. In this comparison, the Honda is the better car dynamically and financially and scores a comfortable win. The Avensis would also make a more sensible fleet choice than the Rover.

WINNER: Honda Accord
Upmarket styling
Build quality
Laid-back engine
Lack of kit for the price
No EU IV diesel yet
The Honda Accord

CO2 emissions and fuel consumption data correct at time of writing. The latest figures are available in the Fleet News fuel cost calculator and the company car tax calculator.
CityRover 1.4 Sprite
CAN MG Rover's new rebadged Tata Indica prove a credible alternative for fleet buyers in the city car sector? Definitely not.
First drive: Volkswagen Passat 2.0 TDI SE Business car review
A pair of 'upper-medium' segment cars from two of the biggest manufacturers in fleet will be launched within weeks of each other signalling an escalation in the battle for sales.
Rover 75 Passenger Fuse Box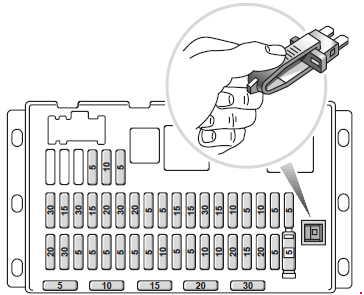 Rover 75 — Fuse Box Diagram — Auto Genius
rover 75 passenger fuse box
Rover 75 And MG ZT Fuse Box Diagram » Fuse Diagram
rover 75 passenger fuse box
Rover 75 & MG ZT (1998-2005) Fuse Box Diagrams — YouTube
rover 75 passenger fuse box
Rover 75 And MG ZT Fuse Box Diagram » Fuse Diagram
rover 75 passenger fuse box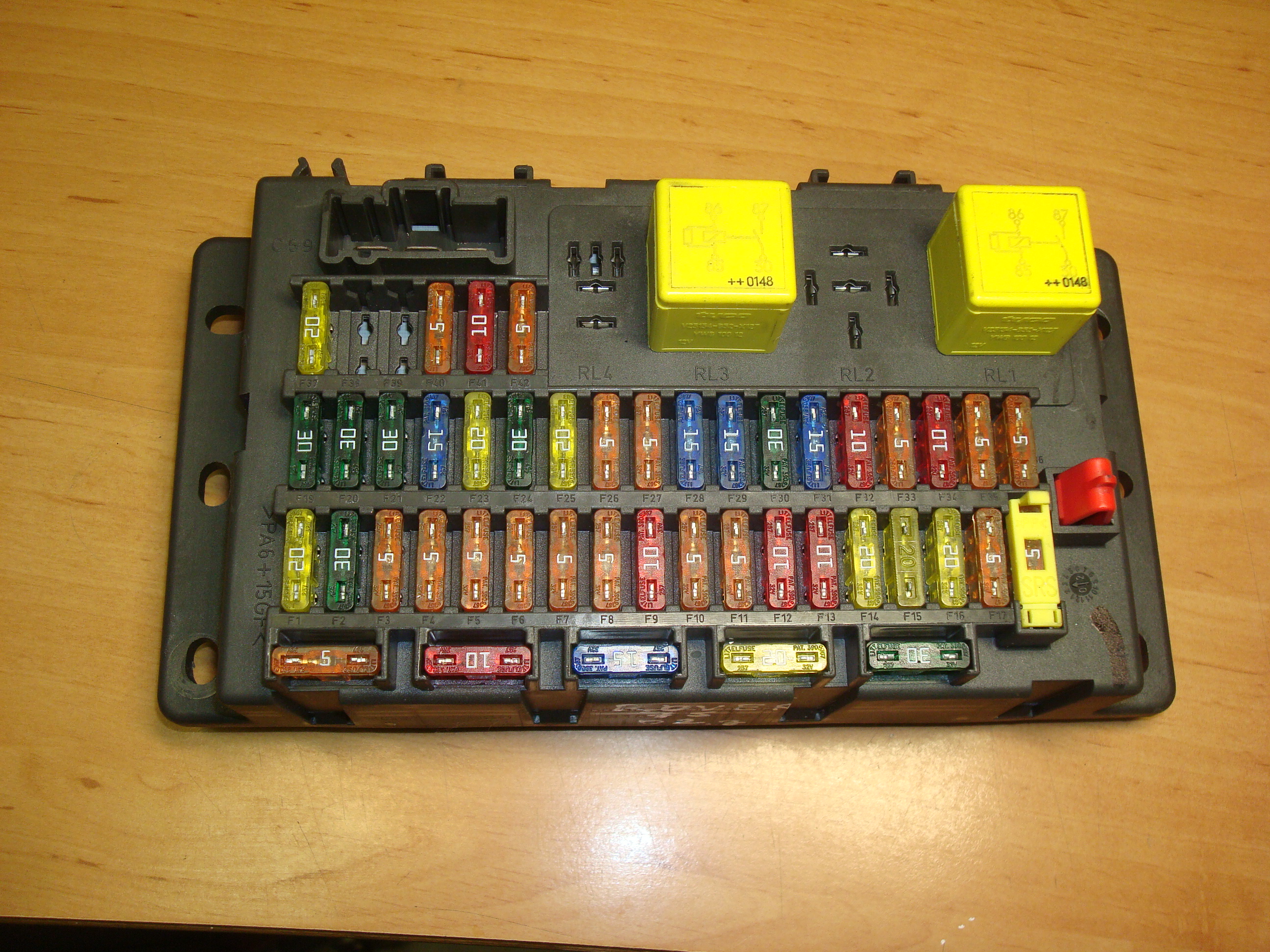 Rover 75 Passenger Fuse Box — Schematic Wiring Diagram Square-2 — Square-2.infrangibiletattooshop.it
rover 75 passenger fuse box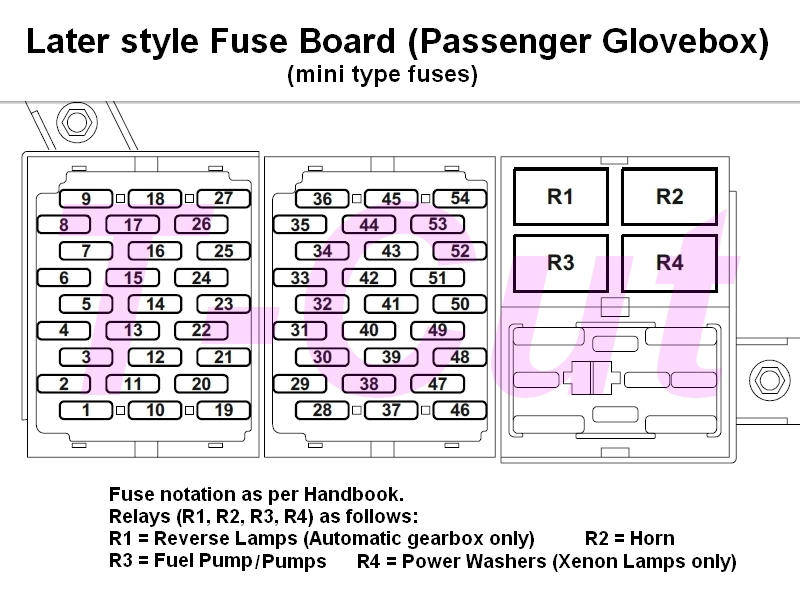 Rover 75 Passenger Fuse Box — Schematic Wiring Diagram Square-2 — Square-2.infrangibiletattooshop.it
rover 75 passenger fuse box
Rover 75 Relays Fusebox — YouTube
rover 75 passenger fuse box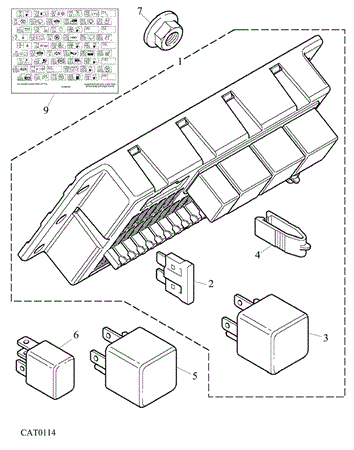 Rover 75/MG ZT Passenger Compartment Fuse Box | Rimmer Bros
rover 75 passenger fuse box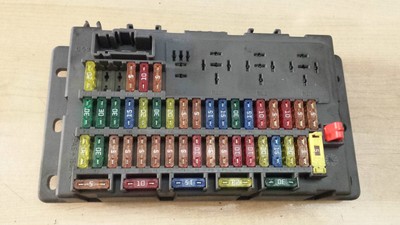 ROVER 75 MG ZT FUSE BOX BASE MODULE YQE103139 (1786) | EBay
rover 75 passenger fuse box
MGZT OBD AND FUSE LOCATIONS (ROVER 75)
rover 75 passenger fuse box
Rover 75 Passenger Fuse Box — Schematic Wiring Diagram Square-2 — Square-2.infrangibiletattooshop.it
rover 75 passenger fuse box
Rover 75 MG ZT Passenger Compartment Fuse Box Cover With Fuse ID Label YQS000340 | EBay
rover 75 passenger fuse box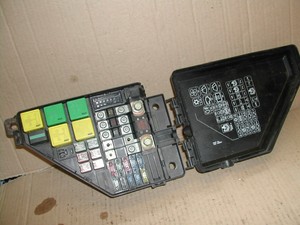 Rover 75 Engine Fuse Box — Wiring Diagram Enter — Enter.lechicchedimammavale.it
rover 75 passenger fuse box
Rover 25 Interior Fuse Box — Wiring Diagram Alternator-b — Alternator-b.sposamiora.it
rover 75 passenger fuse box
Fuse Listings. | MG-Rover.org Forums
rover 75 passenger fuse box
Rover 75 Passenger Fuse Box Whats New
Rover 75 passenger fuse box — . . . . . . .
Rover 75 passenger fuse box —
Rover 75 passenger fuse box —
Wiring diagram is a technique of describing the configuration of electrical equipment installation, eg electrical installation equipment in the substation on CB, from panel to box CB that covers telecontrol & telesignaling aspect, telemetering, all aspects that require wiring diagram, used to locate interference, New auxillary, etc.
rover 75 passenger fuse box This schematic diagram serves to provide an understanding of the functions and workings of an installation in detail, describing the equipment / installation parts (in symbol form) and the connections.
rover 75 passenger fuse box This circuit diagram shows the overall functioning of a circuit. All of its essential components and connections are illustrated by graphic symbols arranged to describe operations as clearly as possible but without regard to the physical form of the various items, components or connections.
Poster Print of 2005 Rover 75 interior



2005 Rover 75 interior
2005 Rover 75 interior. One of the last off the production line.
Dispatched in 1-2 working days
check Made in UK
check Pixel Perfect Reproduction
check Made with high-grade materials
check Carefully packed to aid safe arrival
check Delivery from only €3.80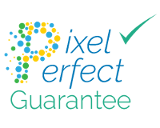 Poster Print of 2005 Rover 75 interior
2005 Rover 75 interior. One of the last off the production line
© National Motor Museum
Media ID 12105357
A4 (30x21cm) Poster
Archival quality poster paper, ideal for printing larger pictures
check Pixel Perfect Guarantee
check Made with high-grade materials
check Product Size 29.7 x 21cm (est)
check Uncropped Image 29.7 x 19.8cm (est)
check Professional quality finish
A4 Poster (30 x 21cm, 8.3 x 11.7 inches) printed on 170gsm Satin Poster Paper. Securely packaged, rolled and inserted into a strong mailing tube and shipped tracked. Poster Prints are of comparable archival quality to our Photographic prints, they are simply printed on thinner Poster Paper. Whilst we only use Photographic Prints in our frames, you can frame Poster Prints if they are carefully supported to prevent sagging over time.
Watermarking does not appear on finished products
Full Art Print Range
Regular Photo Prints (ideal for framing) are sent within one working day and all other items in 3-5 working days.
Framed Print (€53.85 — €275.30)
Our contemporary Framed Prints are professionally made and ready to hang on your wall
Photographic Print (€8.37 — €179.54)
Our Photo Prints are printed on sturdy Archival Quality Paper for vivid reproduction and are perfect for framing.
Canvas Print (€35.90 — €299.24)
Professionally made, ready to hang Canvas Prints are a great way to add colour, depth and texture to any space.
Poster Print (€11.96 — €53.85)
Archival quality poster paper, ideal for printing larger pictures
Tote Bag (€35.85)
Our tote bags are made from soft durable fabric and include a strap for easy carrying.
Photo Mug (€11.96)
Enjoy your favourite drink from a custom printed gift mug. Our mugs are printed with your choice of image
Greeting Card (€7.15)
Greeting Cards suitable for Birthdays, Weddings, Anniversaries, Graduations, Thank You and much more
Cushion (€29.91 — €53.85)
Accessorise your space with decorative, soft cushions
Metal Print (€70.62 — €477.60)
Make your photos come to life with Metal Prints! With durable metal and luxurious printing techniques, add a modern touch to your space.
Fine Art Print (€35.90 — €478.79)
The next best thing to owning the original artwork, with a soft textured natural surface, our fine art reproduction prints meet the standard of most critical museum curators.
Jigsaw Puzzle (€33.50 — €45.47)
Jigsaw Puzzles are an ideal gift for any occasion
Mounted Print (€15.55 — €155.60)
Photo prints supplied in custom cut card mount ready for framing
Glass Frame (€27.52 — €82.59)
Tempered Glass Mounts are ideal for wall display, plus the smaller sizes can also be used free-standing via an integral stand.
Acrylic Blox (€35.90 — €59.84)
Streamlined, one sided modern and attractive table top print
Classic Framed (€53.85 — €299.24)
Our original range of UK Framed Prints featuring a bevelled edge
Mouse Mat (€16.75)
Archive quality photographic print in a durable wipe clean mouse mat with non slip backing. Works with all computer mice.
Glass Place Mat (€59.84)
Set of 4 Glass Place Mats. Elegant polished safety glass and heat resistant. Matching Coasters are also available
Glass Coaster (€9.56)
Individual Glass Coaster. Elegant polished safety toughened glass and heat resistant, matching Place Mats are also available