BMW M340i xDrive Sedan 2020
Седан BMW M340i xDrive: самая быстрая «трешка» серии G20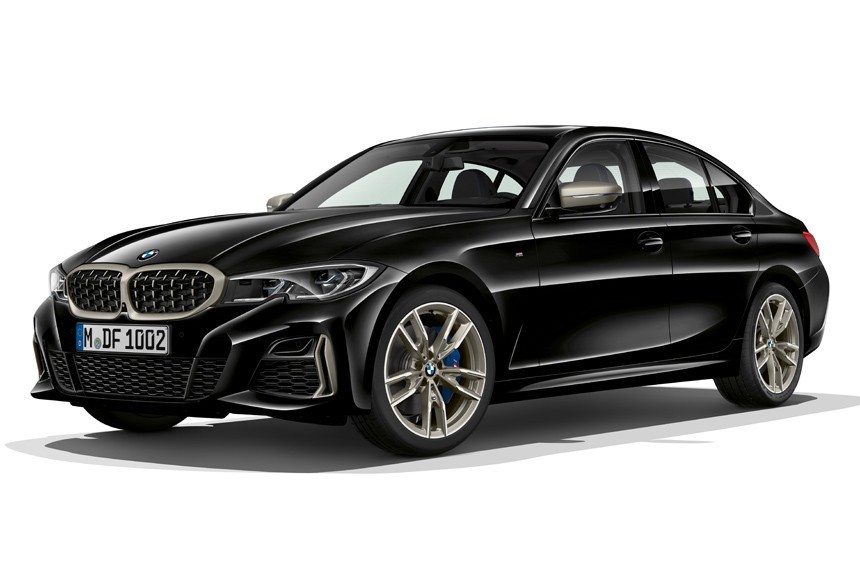 Новый седан BMW третьей серии (поколение G20) был представлен на автосалоне в Париже, но, помимо многочисленных турбочетверок, стартовая гамма включала только один шестицилиндровый мотор — трехлитровый дизель мощностью 265 л.с. для версии 330d. Бензиновая модификация M340i была обещана в недалеком будущем. Которое, как выяснилось, наступит на автосалоне в Лос-Анджелесе: в BMW поделились информацией о новом полноприводном седане.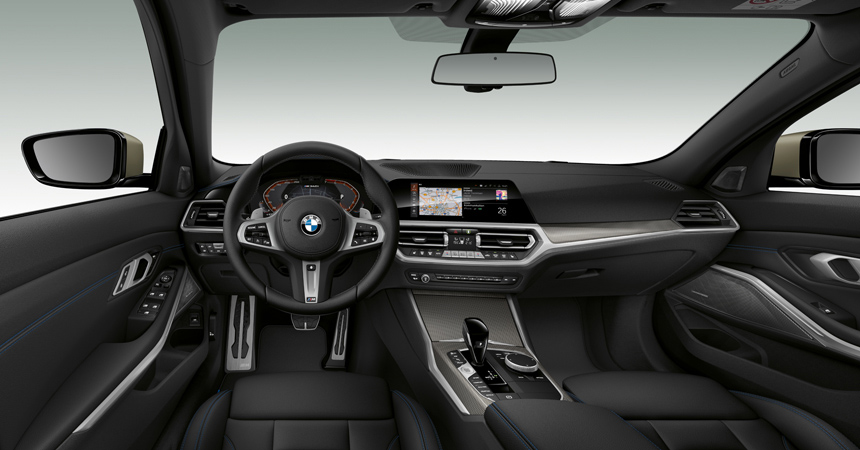 Пока «заряженная» модификация BMW M3 находится в стадии разработки, новый седан BMW M340i xDrive станет самой быстрой «трешкой» новой генерации. Причем по динамике он посоперничает и с уходящей «эмкой». Благодаря увеличенному до 350 бар давлению впрыска и новой программе управления трехлитровая рядная «шестерка» В58 прибавила сразу 48 л.с. и 50 Нм: отдача увеличилась до 374 л.с. и 500 Нм. Прибавьте к этому восьмиступенчатый «автомат» с пересмотренными передаточными числами — и вот результат: до 100 км/ч полноприводный седан разгоняется за 4,4 с. Это на полсекунды меньше, чем у прежней «триста сороковой» с приводом на обе оси и «автоматом», и всего на 0,3 с медленнее, чем у BMW M3 с преселективным «роботом».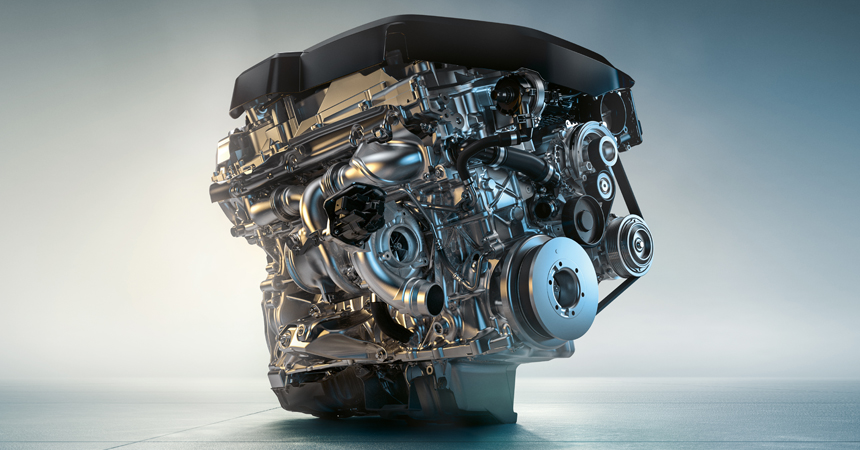 Но это еще не все. По сравнению с младшими «трешками» у нового седана BMW M340i заниженная на 10 мм подвеска с оптимизированной эластокинематикой, увеличенная колея и измененные углы установки колес. Ход педали акселератора уменьшен, а «в базе» есть рулевой редуктор с изменяемым передаточным отношением, электронноуправляемая блокировка заднего дифференциала и launch control. Наконец, новые М-тормоза на передней оси теперь с четырьмя поршнями, фиксированной скобой и синими суппортами, а стандартные колеса разноразмерные: 225/45 R18 спереди и 255/40 R18 сзади.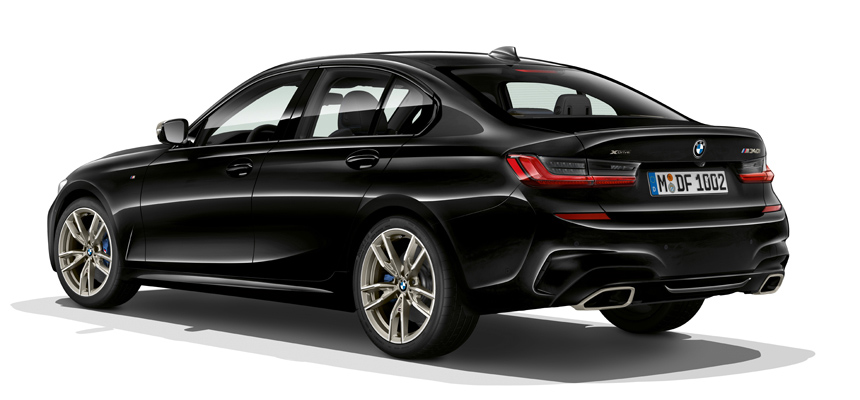 Внешне же M340i тоже не спутаешь с «гражданскими» седанами. Вертикальные планки в фирменных «ноздрях» превратились в пунктиры, бамперы обрели более агрессивные формы, патрубки новой выхлопной системы не круглые, а трапецеидальные, а громче всех об исключительности машины кричит «цериево-серая» окантовка радиаторной решетки.
Компания пока хранит молчание о ценах, нет информации и о динамике заднеприводной версии, которая также есть в планах. По-видимому, полная информация будет рассекречена в Лос-Анджелесе в конце ноября. Хотя дата выхода версии BMW M340i на рынок уже оглашена: и в США, и в Европе прием заказов начнется в июле 2019 года. Тогда же можно ожидать машины и в России.
Car Review: 2020 BMW M340i xDrive
BMW's new 3 Series is balanced, but it leaves a little magic to be desired
OVERVIEW
Is it possible for a car to be good at everything but still leave you cold? BMW used to own the sporty sedan segment and dominated magazine comparisons, but the past 15 years have seen new competitors spring up and others get more serious. The naturally aspirated engines are gone, and the M brand has grown to encompass more vehicles like this M340i. The question is: Is it good enough to be good in 2019?
The M340i recipe starts out with some very good ingredients. It gets a turbocharged 3.0L inline-six making 382 horsepower, a stout 127-horsepower increase over the base 330i's 2.0L turbo-four. It also costs a stout $14,950 more than the base 330i; that's a considerable premium. In addition to the brawny engine, the M340i gives you an "M Sport tuned differential" and a host of exterior upgrades including distinctive (but fake) exhaust tips, and a unique grill with aerodynamic shutters. Our tester was also equipped with $800 adaptive sport suspension and the comically named "Premium Excellence" package, which equipped it with niceties like heated front and rear seats, interior ambient lighting, laser headlights, a head-up display, a premium Harman/Kardon sound system, and more. All this premium excellence put the M340i at $72,200 out the door. A lot of money to be sure, but fair for a 382-horsepower sport sedan.
2020 BMW M340i X-Drive
2020 BMW M340i X-Drive
2020 BMW M340i X-Drive
2020 BMW M340i X-Drive
2020 BMW M340i X-Drive
2020 BMW M340i X-Drive
2020 BMW M340i X-Drive
2020 BMW M340i X-Drive
2020 BMW M340i X-Drive
2020 BMW M340i X-Drive
2020 BMW M340i X-Drive
2020 BMW M340i X-Drive
2020 BMW M340i X-Drive
2020 BMW M340i X-Drive
On the road, it's apparent nobody has told the little M340i it's not a real M car. The BMW blasts from zero to 100 km/h in just 4.4 seconds. BMW no longer offers a manual, but the shifts of the eight-speed automatic are crisp and the exhaust note sings that famous BMW song, even if it is running through a turbocharger. The BMW also does a very good job of disguising its AWD layout. The system is a boon for winter driving, but it feels like a RWD car most of the time. Turning circle seems to have been affected by running driveshafts to the front wheels, however. But on a twisting road, the M340i feels nimble, sporty, and capable. It also makes plenty of pops and bangs from the exhaust while in Sport mode.
Inside, the 340i xDrive is excellent. BMW has clearly spent a lot of time making this wood and leather cocoon an extremely nice place to sit. The interior dimensions are ample and the front seat room is excellent. I especially liked the so-called Cognac Vernasca leather used throughout; the colour and feel is exactly what you'd expect from a premium car. Wood trim is used throughout and while it feels legit, it seems out of place in such a tech-heavy car. The centre console houses the shifter and the iDrive infotainment control wheel. Both of these will feel familiar to previous BMW owners, but will take a bit of getting used-to for those coming from other brands. The infotainment system was housed in a dash-top screen canted towards the driver and while the system is beautiful to look at and quick to respond, it's overly granular and can take a while to master.
My biggest interior gripe was the controls used for the climate control. They were mostly housed in a small aluminum panel with an equally small screen above it to show fan speed, temperature and air direction. The buttons themselves are small, and in bright sunlight, can be hard to read. Also toggling the A/C on and off requires you dive several layers deep into the touchscreen menu. There's no reason it should be that difficult. I accidentally proved there was no need to have an X3 when I forgot that the M340i was my only car for the week and needed to move several items of furniture across town. Luckily for my organizationally challenged self, each of the BMW's rear seats folds down individually and while they don't fold flat, they leave a pretty generous pass-through. The trunk itself is also rather large.
And thus we seem to have found a car with no real faults. The BMW M340i xDrive is fast, drives well, sounds good, costs plenty but offers good value for the price, and it looks sharp to boot. And yet, it doesn't inspire love in the same way that people adore the E30-generation 3 Series. It just feels cold. There's no factual reason for it and it is entirely possible that I may just be crazy, but while the M340i is extremely capable, it's just not a vehicle that warms your heart.
Review update: 2020 BMW M340i is still worlds apart, but it's not the best 3 anymore
Review update: 2020 BMW M340i is still worlds apart, but it's not the best 3 anymore
The BMW 3-Series isn't just a sport sedan. It's the sport sedan.
That designation may have mattered more when Journey was in heavy rotation on radios, but it still means something. Even though tastes and Steve Perry have moved on, luxury brands are still judged by the strength of their small sedans.
Our first impressions of the M340i were good ones. But after a week of living with the M340i, I challenged my devotion to the 3-Series.
I've owned a couple, driven more, and lusted over many. My devotion to the 3-Series isn't blind and there's plenty on the car worth fixing—like any relationship. But my fondness for the 3-Series likely will be forever, faithfully.
And I really don't like Journey.
Hit: Historic, heroic engine
There are many superlatives to heap on the M340i's performance and there's not enough air here in Denver for all the breathless hyperbole I have for it. This year, the M340i's turbo-6 gets massaged up to 382 horsepower (up from 355 hp last year) and it can spring from 0-60 mph in 4.1 seconds. Carved into the automotive Mount Rushmore in my mind is the BMW B58 engine, a superhero under hoods that's excellent in every application. Its power and turbos build quickly but surge at 4,000 rpm. The revs race past 6,000 rpm in a blink, but it never feels tapped. I ran out of road well before I ran out of grunt.
Hit: Smaller driver, big winner
Despite having more inches between the wheels and bumpers—and fewer inches between the ground and my rump—the longer, lower, and wider 2020 3-Series drives like a smaller car. That's a good thing. The M340i pivots like a halfback in tight esses, and it corners on its tiptoes without much body roll. It's the perfect mix of a stiff chassis with just enough steering communication to know when the car has settled after every turn. The rear differential that's standard on the M340i moves the back end around confidently, and when the small BMW breaks grip it works with the traction control systems to give me plenty of rope without letting me hang myself, likely via magic or some other dark art.
Bonus: DSC Traction
BMW's stability control program that's one step from "On" but not completely "Off" is an instant fun button.
Miss: A game of inches, lost in the feet
The E90 sitting in my driveway has 34.6 inches of leg room, measured from the back of the rear seat to the front of some engineer's imagination. By comparison, my M340i tester has 35.2 actual inches of leg room, measured with a ruler and not pure fantasy. The 2020 3-Series is big enough that I can comfortably sit behind someone of similar 6-foot-2 Midwestern build, albeit with my knees against the seat. The bad news? My size 12s don't fit so well in the allotted foot room. It's not enough for me to proclaim that the M340i can't comfortably hold four adults, but it's enough to recommend calling shotgun when you can.
Hit: Adaptive, reactive, and proactive
The adaptive dampers fitted to my tester cost $700, and at least on the M340i, it's not shielded in the lineup by frivolous prerequisite options like heated seats or a smoker's package. The standalone dampers are great for their sport setting—discernibly stiffer than the comfort setting—which tightens at each corner for better handling. What the M340i lacks in steering feel, it gives some back in communicating what is happening at each corner.
Miss: The price
Nestlé doesn't have enough sugar to coat the $70,000 pill BMW asks us to swallow with our tester. Even a low-mileage lease with $2,500 down nets a $700 monthly payment, a more likely scenario for BMW's clientele but still not comfortable. And there's worse news coming…
Hit: Everything else
BMW's 8-speed automatic transmission in the M340i is telepathic. The all-wheel-drive system is butter-smooth everywhere. The sport seats are comfortable and supportive, with a natural seating position that's better than its competitors. The interior is refined more than the gas it doesn't drink (I averaged over 26 mpg in more than 150 hard-driving miles). The new 3-Series is pretty again. The trunk is bigger. I could go on.
Miss: The best 3-Series isn't an M340i
It's an X3 M40i. It has the same powertrain, virtually the same performance, more practicality and comfort, more leg room, and it costs the same. It's just as fun to drive in nearly every circumstance, and it's even pretty. I love the 3-Series, I'm just running out of reasons to recommend one.
A nearly identically equipped 2020 BMW X3 M40i costs $300 less than the 2020 BMW M340i I drove for a week. (The only difference? Remote start, which is a $300 option on the M340i, isn't available at all on an X3. The X3 M40i gets 20-inch wheels and the M340i gets 19-inchers, although bigger wheels are available for both.)
The numbers on the bottoms of both stickers are enough to know that it's not the 1980s anymore. The Tanzanite Blue M340i runs up the score to $69,570, including destination. The staggeringly high price isn't the only eye-watering number attached to both—the sedan and crossover speed from 0-60 mph in just over four seconds, faster than an M3 from less than a decade ago.
TL;DR? I still love sedans, so I won't stop believing, but the crossover is just better. And I really don't like Journey.
2020 BMW M340i xDrive
Base price: $56,995, including destination
Price as tested: $69,570
Drivetrain: 382-horsepower, 3.0-liter turbo inline-6, 8-speed automatic, all-wheel drive
EPA fuel economy: 22/30/25 mpg
The hits: Superlative performance, great adaptive dampers, great all-rounder
The misses: Astronomically high price, foot room is cramped in the back, the X3 may be better.
BMW 3 Series поколения 7, седан, 3.0 AT (387 л.с.), M340i xDrive Base
Обновлено 11 декабря
Trade-in, выгода 160 000 p
Показать все комплектации
Новые автомобили BMW 3 Series в наличии
BMW 3 серия, седан, 318d Sport Line
2020, 2.0 AT (150 л.с.), дизельное топливо, задний привод, Москва
от 42 750 i /мес
BMW 3 серия, седан, 318i SE
2020, 2.0 AT (156 л.с.), бензин, задний привод, Котельники
от 42 750 i /мес
BMW 3 серия, седан, 320i xDrive M Sport Pure
2020, 2.0 AT (184 л.с.), бензин, полный привод, Москва
от 42 750 i /мес
BMW 3 серия, седан, 320i xDrive M Sport Pure
2020, 2.0 AT (184 л.с.), бензин, полный привод, Москва
от 42 750 i /мес
BMW 3 серия, седан, 318i SE
2020, 2.0 AT (156 л.с.), бензин, задний привод, Москва
от 42 750 i /мес
BMW 3 серия, седан, 320i xDrive M Sport Pure
2020, 2.0 AT (184 л.с.), бензин, полный привод, Москва
от 42 750 i /мес
BMW 3 серия, седан, 318d
2020, 2.0 AT (150 л.с.), дизельное топливо, задний привод, Котельники
от 42 750 i /мес
BMW 3 серия, седан, 320d xDrive M Sport Pure
2020, 2.0 AT (190 л.с.), дизельное топливо, полный привод, Москва
от 42 750 i /мес
BMW 3 серия, седан, 318d Sport Line
2020, 2.0 AT (150 л.с.), дизельное топливо, задний привод
от 42 750 i /мес
BMW 3 серия, седан, 318i SE
2020, 2.0 AT (156 л.с.), бензин, задний привод
от 42 750 i /мес
BMW 3 серия, седан, 320i xDrive M Sport Pure
2020, 2.0 AT (184 л.с.), бензин, полный привод
от 42 750 i /мес
BMW 3 серия, седан, 320i xDrive M Sport Pure
2020, 2.0 AT (184 л.с.), бензин, полный привод
от 42 750 i /мес
BMW 3 серия, седан, 318i SE
2020, 2.0 AT (156 л.с.), бензин, задний привод
от 42 750 i /мес
BMW 3 серия, седан, 320i xDrive M Sport Pure
2020, 2.0 AT (184 л.с.), бензин, полный привод
от 42 750 i /мес
BMW 3 серия, седан, 318d
2020, 2.0 AT (150 л.с.), дизельное топливо, задний привод
от 42 750 i /мес
BMW 3 серия, седан, 320d xDrive M Sport Pure
2020, 2.0 AT (190 л.с.), дизельное топливо, полный привод
от 42 750 i /мес
BMW 3 серия, седан, 318d Sport Line
2020, 2.0 AT (150 л.с.), дизельное топливо, задний привод
2020, 2.0 AT (150 л.с.), дизельное топливо, задний привод
от 42 750 i /мес
BMW 3 серия, седан, 318i SE
2020, 2.0 AT (156 л.с.), бензин, задний привод
2020, 2.0 AT (156 л.с.), бензин, задний привод
от 42 750 i /мес
BMW 3 серия, седан, 320i xDrive M Sport Pure
2020, 2.0 AT (184 л.с.), бензин, полный привод
2020, 2.0 AT (184 л.с.), бензин, полный привод
от 42 750 i /мес
BMW 3 серия, седан, 320i xDrive M Sport Pure
2020, 2.0 AT (184 л.с.), бензин, полный привод
2020, 2.0 AT (184 л.с.), бензин, полный привод
от 42 750 i /мес
BMW 3 серия, седан, 318i SE
2020, 2.0 AT (156 л.с.), бензин, задний привод
2020, 2.0 AT (156 л.с.), бензин, задний привод
от 42 750 i /мес
BMW 3 серия, седан, 320i xDrive M Sport Pure
2020, 2.0 AT (184 л.с.), бензин, полный привод
2020, 2.0 AT (184 л.с.), бензин, полный привод
от 42 750 i /мес
BMW 3 серия, седан, 318d
2020, 2.0 AT (150 л.с.), дизельное топливо, задний привод
2020, 2.0 AT (150 л.с.), дизельное топливо, задний привод
от 42 750 i /мес
BMW 3 серия, седан, 320d xDrive M Sport Pure
2020, 2.0 AT (190 л.с.), дизельное топливо, полный привод
2020, 2.0 AT (190 л.с.), дизельное топливо, полный привод
от 42 750 i /мес
Публикации
Автомобили Subaru выросли в цене на 60 – 90 тысяч рублей
Toyota обновила прайсы для большинства моделей
В России подорожали автомобили Mazda
Сергей Целиков: Genesis G70 — младшенькая из «трех сестер»
Антон Чуйкин: Genesis G90L — фуражки не найдется?
Сергей Целиков: Land Rover Discovery Sport — и что я в тебя такой влюбленный?
Какие автомобили с пробегом покупают в Казани? ТОП-10 моделей
ТОП-10 самых покупаемых автомобилей с пробегом в Омске
10 бестселлеров на рынке автомобилей с пробегом в Красноярске
В декабре Skoda предлагает выгодные условия на покупку своих моделей
Кроссовер Toyota RAV4 стал еще доступнее
Стали известны цены на Haval H5
Продолжая работу с cena-auto.ru, вы подтверждаете использование сайтом cookies вашего браузера с целью улучшить предложения и сервис на основе ваших предпочтений и интересов Понятно
О проекте
Реклама
Контакты
Пользовательское соглашение
Обработка персональных данных
Обратная связь
Дисклеймер
Мобильная версия сайта
Мы в Яндекс.Дзен
© 2017-2020. ЦЕНА АВТО. Все права защищены
При полном или частичном копировании материалов, гиперссылка на cena-auto.ru обязательна
Москва
Санкт-Петербург
Севастополь
Великий Новгород
Владимир
Волгоград
Вологда
Воронеж
В
Казань
Калининград
Калуга
Кемерово
Киров
Кострома
Краснодар
Курск
К
Нижний Новгород
Новокузнецк
Новосибирск
Н
Пенза
Пермь
Псков
Пятигорск
П
Самара
Саратов
Смоленск
Сочи
С
Тверь
Тольятти
Томск
Тула
Тюмень
Т
Выбор марки
Выбор модели
Выбор комплектаций
LADA
Land Rover
Lexus
Lifan
L
Mazda
Mercedes-Benz
MINI
Mitsubishi
M
Авторизуйтесь, чтобы добавить свой автомобиль и иметь возможность запрашивать персональные предложения у дилеров и бронировать автомобили в наличии, а также пользоваться онлайн-сервисом Оценка авто до 20 раз в сутки
Авторизуйтесь, чтобы иметь возможность делать клиентам персональные предложения, договариваться о сделке и её условиях с клиентом без посредников, а также пользоваться онлайн-сервисом Оценка авто чаще. Узнайте актуальную рыночную стоимость автомобиля с пробегом всего за 1 минуту
BMW M340i xDrive saloon 2020 review
All the ingredients are present to make this a cracking sub-M Sport saloon, but the M340i puts outright pace and tech above real driver thrills and enjoyment

It's very fast; refined; laden with tech
Unsatisfying; poor steering; limited driver appeal
Small six-cylinder BMWs were once something to get excited about, even if they didn't wear an 'M' badge. Can the latest G20 model continue that tradition in top-spec M340i xDrive guise, or does the combination of turbocharging, four-wheel drive and a standard automatic gearbox, not to mention a host of other modern tech, dim that once vibrant driver appeal?
Engine, transmission and 0-60 time
This latest evolution of the 'TwinPower' single turbo (it stands for Twin Scroll Turbo) B58 'modular' straight-six produces precisely the same power as it does torque at 369bhp and 369lb ft, up from 320bhp in the old F30 340i.
Given that peak torque stretches from 1850rpm to 5000rpm, it should make short work of the 1670kg kerb weight, and indeed, the figures suggest exactly that, 62mph arriving from a standing start in just 4.4sec. The days when a non-M car BMW such as the M340i could be had with a manual transmission are long gone, and the only choice here is an eight-speed torque-converter auto, offering manual changes via paddles behind the steering wheel.
Technical highlights
The B58 engine features a raft of technical changes in this latest guise. The turbocharger itself has 25 per cent less inertia for better response, while the pressure of the fuel injectors has risen to 350bar. The new M Sport exhaust system increases the sound, but is also fitted with two petrol particulate filters to enable compliance with the latest Euro 6 emissions standard.
More reviews for 3 Series saloon
Group tests
Mercedes-AMG C43 Estate v BMW 340i Touring
In-depth reviews
F80 BMW M3 review (2014-2018)
BMW 3-series review – does it still reward the keen driver?
Reviews
BMW 320d M Sport review — can the everyman 3-series beat the Audi A4 and Mercedes C-class?
New 2018 BMW M3 CS review – hottest ever M3 hits the road
BMW 3-series review — Still the best compact executive car?
BMW 335d M Sport Touring review — space and pace aplenty in latest diesel estate
BMW's 'junior' sporting models have become increasingly bespoke over recent years, and the braking system on the M340i is a good example. The blue-painted calipers signify 348mm/345mm discs, front/rear, with four-pot calipers on the front axle and a bespoke hydraulic configuration to improve both power and feel.
What's it like to drive?
To say the M340i's performance is strong is a massive understatement. The boost arrives early and forcefully, and from that point onwards the 340i simply charges forward, sustaining that delivery to the red line. Short intermediate gears and quick shifts from the auto 'box exaggerate the sensation. Want some perspective? It's 0-60mph time is just a fraction behind that of a Porsche 996 Turbo – and all from a 'regular' 3-series.
Strangely, there's limited joy to be had from the process. To define exactly why isn't the easiest of tasks, but given the excellent refinement of the G20, and the lack of driver involvement in the process of actually going that fast, it all seems a bit… unnecessary. You can, of course, use the paddles to change gear, but it's easy to get swamped by the ratios on offer and endless paddle clicking. Turbocharging the six in this way predictably means its voice as the revs rise is rather one-dimensional, and as obvious as it may sound, the loud drone from the exhaust isn't anything like as appealing as that of the old naturally aspirated straight-sixes, although it does sound much better than the now familiar turbocharged 'four'.
The xDrive set-up, with its electronically controlled multi-plate clutch, works well. It has the ability to make the M340i feel secure one moment, but then with the DSC system relaxed or switched off entirely, it will permit plenty of oversteer, aided by the M Sport rear diff. It needs care though, because the ferocity of the engine's delivery and the inevitable character of a force-fed throttle response mean you have to be right on your game if it does lose traction at the rear axle, and the way drive to the front tyres snaps the car back in line means that lock must then be removed smartish.
Sadly, the driver never really gets to enjoy some of the latent talents found in the G20 3-series, principally because the steering is perhaps its worst feature, with a strangely disconnected feel, and adding weight in the various sportier driver modes doesn't change that. Talking of which, there's Eco Pro, Comfort, Sport, and Sport+, as well as Individual modes, plus Adaptive, which gives plenty of opportunity to adjust the character of the M340i, even if the perfect set-up for UK roads seems rather elusive.
In anything other than Comfort setting the suspension gets notably harsh and fidgety over poor surfaces, while the car fails to morph successfully into a great sports saloon. Even with the dampers in their comfort setting there's an underlying abruptness to the rebound damping that makes what would otherwise be a devastatingly good mile-cruncher not as relaxing as it could be (our car was on the optional 19-inch wheels with the Adaptive M suspension package). That's a pity, because while the 340's very black interior is hardly a riot of colour and design, it certainly feels very solid, and in the front half of the passenger compartment at least, spacious. Still, the less said about the overcomplicated digital instrument binnacle though, the better.
Price and rivals
£49,845 is the starting price for an M340i xDrive Saloon, although our test car worked out quite a bit more than that, as is so often the way. Although the BMW is nearly £8000 more than a Jaguar XE P300 R-Dynamic, specify the more expensive HSE trim and throw in a few options and the Jag's value proposition isn't quite so strong. But the Jag is a more involving, more enjoyable car to drive than the BMW, even if its powertrain is nowhere as good in terms of strength or desirability beyond its near 70bhp shortfall. An Alfa Romeo Giulia Veloce can't compete on power or price either at £40,725, but it's arguably the pick of the lot in terms of driver appeal.
It's more traditional rivals from German brands like Audi and Mercedes-AMG get closer on price, as both the new diesel S4 TDI and existing C43 both hovering at the same circa-£50k entry price give or take at £46,005 and £48,795 respectively. The Audi's change to a new V6 diesel assisted by a mild-hybrid system was a pragmatic move, compromising the S4's driving appeal but becoming a much cheaper everyday car to run thanks to significantly improved fuel consumption and CO2 (therefore tax) figures.
The Mercedes-AMG C43 is a more interesting comparison, as the BMW's traditional advantage in driving dynamics has almost completely disappeared in this generation of compact saloon. The Merc steers better, has a sweeter 386bhp twin-turbocharged V6 petrol engine and more interaction from it's chassis, even if the BMW's outright capability higher.
BMW M340i xDrive 2020 Review
The BMW 3 Series but even better: welcome the BMW M340i xDrive
What is the BMW M340i xDrive all about?
The seventh-generation BMW 3 Series showed a triumphant return to form for BMW, so much so that it won our 2019 carsales Car of the Year.
The BMW M340i xDrive takes that winning formula one step further, delivering more power, more pomp and an engine note that warms the heart. The M340i xDrive is one of five models in the 3 Series line-up and it's where the heart is at, if you ask me.
Stepping up from the entry-level 2.0-litre turbo-petrol engine, the M340i xDrive features a 3.0-litre, six-cylinder turbo-petrol engine that is paired to an eight-speed automatic transmission delivering an energetic 285kW and 500Nm, second only to the BMW M3 (331kW/550Nm) in the 3 Series portfolio.
How much does the BMW M340i xDrive cost?
The BMW M340i xDrive will set you back $99,900 (plus ORCs) and that's before you succumb (you will) to BMWs range of options – such as is the case in our test vehicle.
It features the Visibility Package ($3900), Technology Package ($900) and aluminium mesh effect interior trim ($300).
BMW Australia offers (and stands by) a three-year/unlimited-kilometre warranty and service intervals are subject to BMW's condition based service program.
Why should/shouldn't I buy the BMW M340i xDrive?
If you crave BMWs six-cylinder engine, this is where you may well land – pushing $40k over the entry level 320i, the M340i xDrive is next level. The M340i will make the dash from 0-100k/h in 4.4sec, using its eight-speed auto and on demand all-wheel-drive grip to get it there with pure ease.
Gearshifts are excellent, whatever drive mode you've selected. In Sport Plus, the shift is seriously quick. And I'm not going to lie, I spent most of my week in Sport Plus mode.
The pace and sense of urgency, and a nice exhaust note… I could not resist. That's no crime I hear you say. No, it's not. But an average fuel consumption of 18.0L/100km. I do wonder how long it would take for that novelty to wear off. The claimed combined fuel consumption is 7.7L/100km.
Ergonomics, interior fit and finish, and the sense of ceremony behind the wheel, are exactly what you'd expect of a prestige sports sedan; and it's another win for the new 3 Series.
I think it looks divine – and I love the grille design. Many didn't.
When is the BMW M340i xDrive available in Australia?
The 2020 BMW M340i is on sale now and it sits at the top of the 3 Series offering – M3 aside.
If the $99,900 (plus ORCs) is hard to justify, maybe the recently announced M Pure models are more your thing. Less gear, fewer dollars.
More Research
2020 BMW 3 Series Pricing & Specs
Read what BMW 3 Series owners think
Read more BMW 3 Series news & reviews
Who will the BMW M340i xDrive appeal to?
I'm thinking the BMW M340i xDrive will appeal to anyone who either can't financially stretch to or (maybe) is in waiting for a BMW M3. It's a close imitation of BMW's favourite M car and I think it pulls it off very convincingly.
I did say close, however. You won't get the corner-hugging time-of-your-life dynamism that the M3 brings, nor the street cred to go with. But, you'll have some spare cash to treat yourself in other ways (shoes perhaps).
This four-door, five seater is also best suited to four occupants, with the middle second-row seating position pretty compromised where leg room is concerned. You'll find two ISOFIX seating positions and three top-tether anchors, seat back storage nets, a centre arm rest with two cupholders and dedicated climate control.
Notwithstanding these additions, the M340i is still not the first car that leaps to mind for the modern family needs. The 480-litre boot with 40:20:40 spit fold seats is a nod to versatility where there's not a great amount to speak of. It'll also tow 1800kg (braked).
Where does the BMW M340i xDrive fit?
The BMW M340i sits in the medium sedan (priced over $70k) segment and it's here that BMWs original bread-and-butter vehicle (now SUVs all day, every day) goes head-to-head with the segment's top-selling Mercedes-Benz C-Class range as well as Audi's A4 and A5 – not to mention the Volvo S60, Alfa Romeo Giulia and Jaguar XE.
There's great variety in the world of medium sedans – cars and price tags.
The refreshed BMW 3 Series range arrived in Australia late last year, so the months ahead will be a fair indication of whether BMWs latest 3 Series can win back some medium sedan loyalty.
So, what do we think of the BMW M340i xDrive?
The BMW M340i xDrive is a meaningful sports sedan that strikes a great balance between everyday dynamism and ballistic Bavarian, the latter being reserved for BMWs M3.
I'm a great fan of what BMW has achieved in its new 3 Series range and the M340i xDrive variant is close to perfect. I was quite taken with this car, which can cause you to forget about the strong competition mentioned above.
If you love BMWs, however, is there really any competition to speak of?
How much does the 2020 BMW M340i xDrive cost?
Price: $99,900 (plus on-road costs)
Engine: 3.0-litre six-cylinder turbo-petrol
Output: 275kW/500Nm
Transmission: Eight-speed automatic
Fuel: 7.0L/100km (ADR Combined)
CO2: 160g/km (ADR Combined)
Safety Rating: Five-star EuroNCAP (2019)